In an era marked by trends, sustainability goals, and different modes of earning, the iconic Victoria's Secret Angels are making their mark in a whole new way. These models aren't just serving looks; they're stacking up the cash, and we're here to spill the tea on who are the highest paid Victoria's Secret models in 2023!
Forget the traditional runway; this is the era of the runway revolution. From the 'gram to the Met Gala, these Victoria's Secret models are redefining the rules of the game. So grab your avocado toast and sustainable coffee cup because we're about to take you on a deep dive into the financial success stories of the Angels who've gone beyond strutting their stuff to stacking those dollars.
We'll be breaking down the big numbers, dissecting the brand deals, and even exploring their side hustles that have these young models rolling in the dough. Whether you're a fashionista on a budget or a future entrepreneur looking for inspiration, this journey into the world of the highest-paid Victoria's Secret models promises to be not just informative, but Instagram-worthy. Buckle up and see how your favorite fashion icons are making bank and changing the game in the process.
How Do Victoria's Secret Models Generate Income?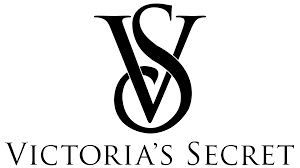 Victoria's Secret models hustle for their cash in various ways. First, they lock down those money-making modeling deals with the brand – that's runway action, catalog shoots, and ad campaigns that fill their pockets. No doubt, strutting in the Victoria's Secret Fashion Show is a big deal, but they've made changes to be more inclusive. These models are also signing deals with other cool fashion and beauty brands, popping up on magazine covers, and spreading their vibes on social media, making bank from sponsored posts and brand collabs. 
Some of them even start their own product lines, try acting or wellness ventures, and cash in on personal appearances and events. But the cash flow isn't the same for everyone – it's all about how famous you are, the gigs you score, and your hustle game.
1. Kendall Jenner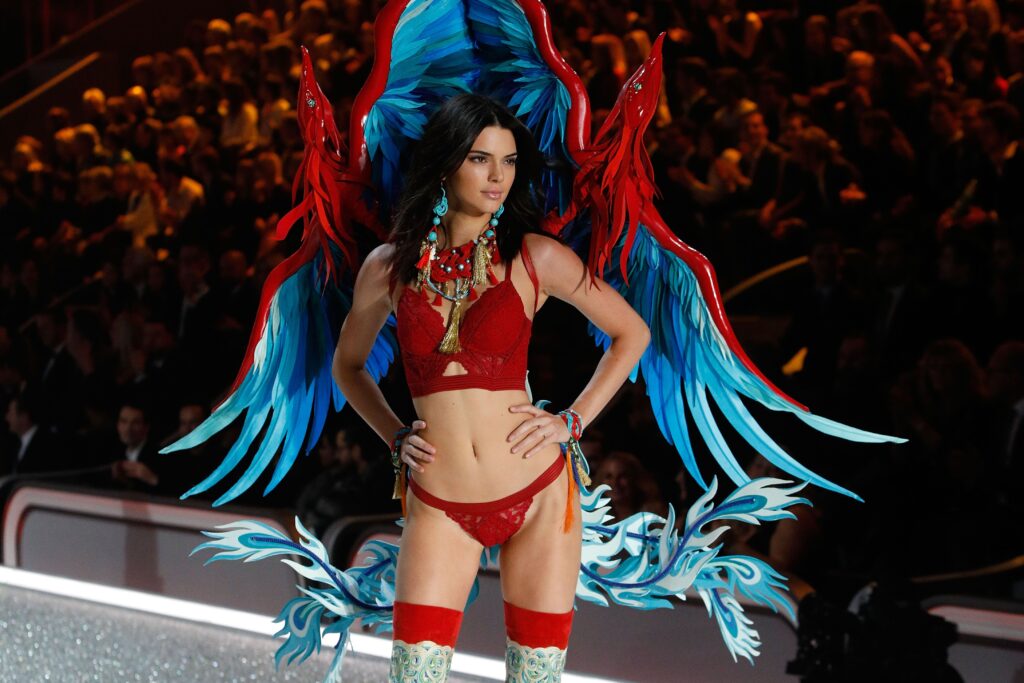 Kendall Jenner's debut at the Victoria's Secret Fashion Show in 2015 was a total dream come true! Imagine this: Kendall, at the ripe age of 15, tells her mom, Kris, that being a Victoria's Secret Angel is her ultimate goal.
But hold up, Kris was in a bit of a pickle. She didn't have those "influencer" connections in the modeling biz. So, what does she do? She's on a flight back from New York when she stumbles upon a documentary about Russell James, the legendary Victoria's Secret photographer.
Kris, being the momager extraordinaire, decides to shoot her shot. She Googles Russell James, finds his number, and leaves him a voicemail. In the voicemail, she's all like, "Hey, I'm Kris Jenner, and my daughter Kendall is gonna slay the VS runway. Let's chat!"
Guess what? Russell James actually calls her back! The whole Kardashian crew is hanging out in San Diego when Kris gets the call. Russell's like, "Hey, this is Russell James, and I wanna meet your daughter."
Fast forward 10 days, and Kendall's chilling at home when Russell James shows up for a meeting.
Long story short, Kendall strutted her stuff on the Victoria's Secret runway in 2015 and returned in 2016, making hearts flutter worldwide! But hey, there's a plot twist—she couldn't make it to the show one year because she was too busy being a fierce model for another lingerie brand, La Perla.
To reveal her net worth from her modeling career, just click here.
2. Miranda Kerr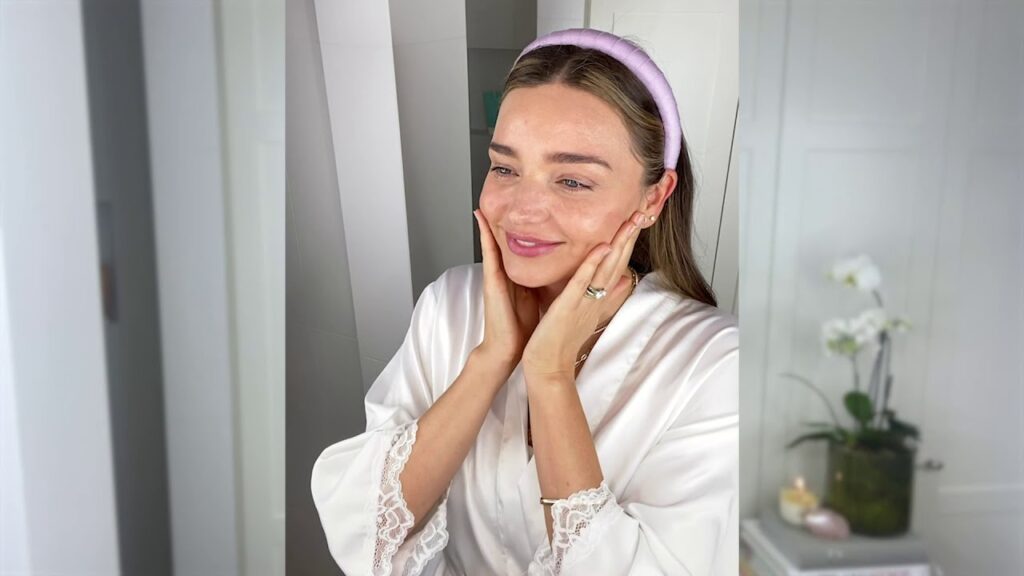 Miranda Kerr's journey to fame had a seriously rad and super-dynamic vibe. After totally crushing it with Maybelline, she pulled off something insanely cool: becoming the first-ever Aussie Victoria's Secret Angel! She joined an elite squad of models, like Alessandra Ambrosio, Karolína Kurková, Adriana Lima, Selita Ebanks, Izabel Goulart, and Heidi Klum. Talk about squad goals, right?
But even before she officially got her Angel wings in 2007, Kerr was already making major waves in the fashion world. In 2006, she became the face of PINK, which was seriously impressive.
Kerr's career hit the stratosphere when she got to rock the mind-blowing $2.5 million Victoria's Secret Fantasy Treasure Bra at their November 2011 fashion show. That moment was pure fire and proved that she was a total boss in the modeling game.
But, here's where it gets interesting. In March 2013, negotiations to renew her five-year deal with David Jones came to a close, and they parted ways on good terms. Then, the next month, it dropped that her three-year, US$1-million contract with Victoria's Secret wasn't being extended. Some mystery sources were like, "Um, maybe her rep and sales game isn't on point." But Team Kerr was all like, "Hold up, she's crazy busy." In fact, Victoria's Secret's marketing guru, Ed Razek, even publicly said he wanted Kerr in that year's fashion show.
Through all that drama, Kerr still stayed a big deal in the fashion world. She owned the covers of super prestigious mags, scoring the front page of Vogue Australia in April and totally slaying the July issue of Vogue Korea.
So, yeah, Miranda Kerr's journey to fame? It had Gen Z energy all the way, filled with ups, downs, and a whole lot of fierceness!
3. Naomi Campbell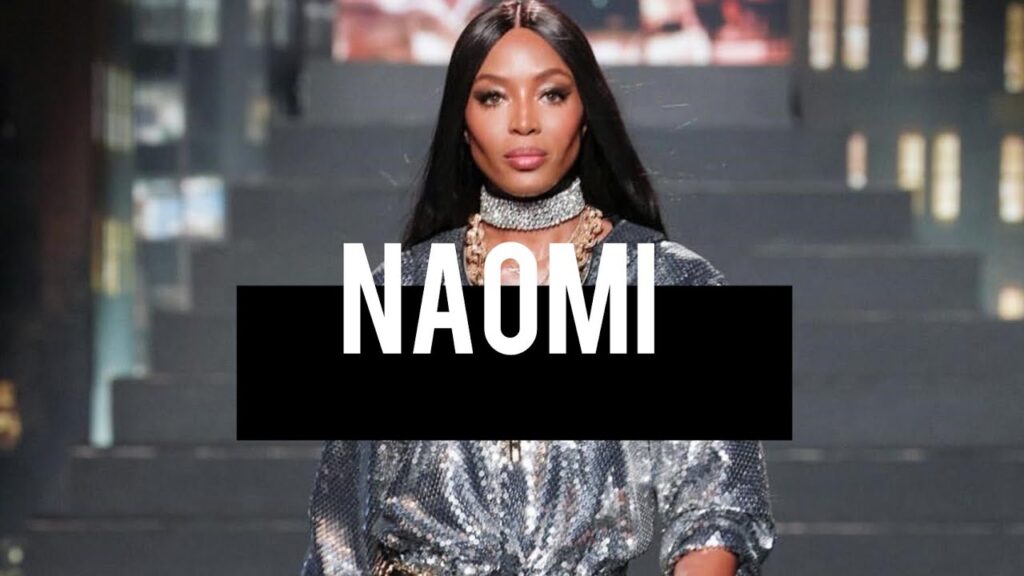 Back in '95, Naomi Campbell was totally owning the runway at the second-ever Victoria's Secret Fashion Show. She didn't just walk it once, twice, or even thrice – she strutted her stuff a whopping seven times! But when folks asked her why she didn't go full-time Angel, she was straight-up about it, saying, "They couldn't afford me."
Now, zip ahead to August 2023, and bam! Victoria's Secret just dropped the Icon Collection. Who's in the spotlight? Well, none other than Naomi Campbell herself, plus the legendary Gisele Bündchen and the stunning Candice Swanepoel. They had the incredible Mikael Jansson behind the lens, and they brought together the OGs from the '90s and 2000s, along with some fresh faces like Paloma Elsesser, Adut Akech, Emily Ratajkowski, and Hailey Bieber. It's like a big ol' reunion of fashion greatness, crossing generations and showing off that timeless beauty and style.
So, even though Naomi didn't go full-time Angel, she's still out there slaying the fashion game and making waves. She's a reminder to us all why she's an absolute icon.
To reveal her net worth from her modeling career, just click here.
4. Alessandra Ambrosio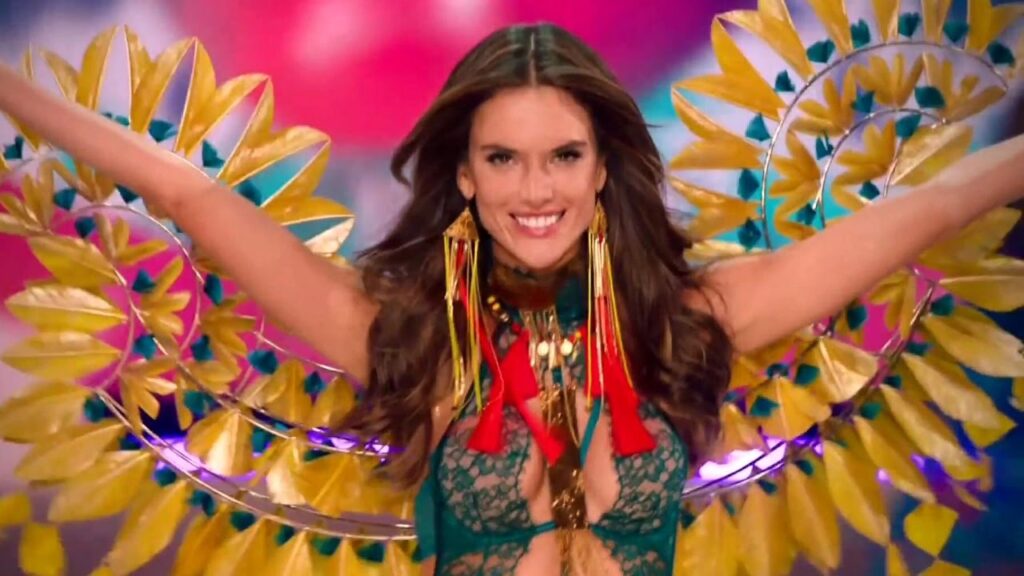 Fast forward to 2006, and Alessandra Ambrosio became the very first face of Victoria's Secret's "PINK" line. She was on fire! In 2005, she graced the Victoria's Secret Fashion Show runway, dressed head to toe in candy lingerie. Talk about a sugar rush!
But here's the real flex: In 2008, just three months after welcoming her first child, she sashayed down that iconic runway, and the following year in 2009, she opened the show. Absolute boss moves!
Now, the 2011 show was wild – Alessandra strutted her stuff wearing the heaviest wings ever seen at the show, and to top it off, she was pregnant with her second child. That's some next-level multitasking!
Fast forward again to 2012, and she was chosen to rock the "Fantasy Bra." It was called the Floral Fantasy Bra, and it was straight-up jewelry on her body, decked out with amethysts, rubies, sapphires, and diamonds set in rose and yellow gold, with more than 5,200 precious stones. Bling, bling!
In 2014, she doubled down, sharing the stage with Adriana Lima while wearing the Dream Fantasy Bra. Both of those beauties had a price tag of $2.5 million each. Just imagine the insurance on those!
After her 17th Victoria's Secret Fashion Show in 2017, Alessandra dropped the mic on her runway career, announcing on her Instagram that she was retiring. She left behind a trail of iconic moments, reminding us why she's a legend in the fashion game.
5. Tyra Banks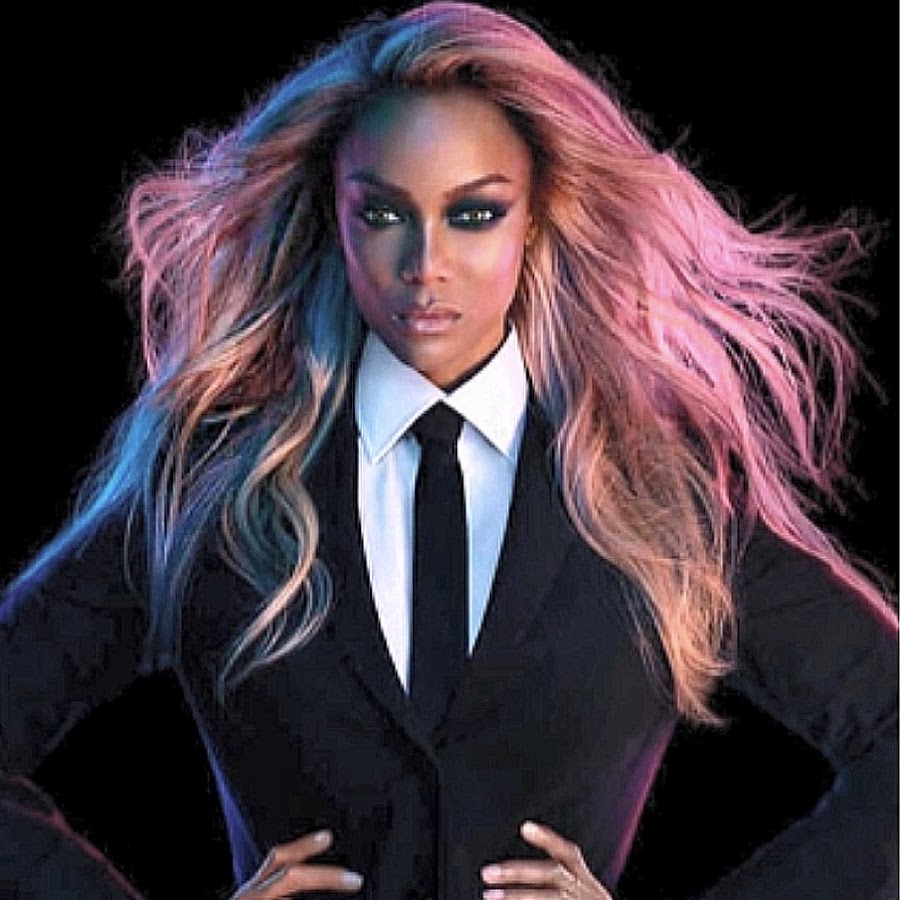 Taking it back to '97, Tyra Banks was totally slaying the game! She snagged that VH1 award for "Supermodel of the Year" – major flex! In the same year, she smashed through barriers by becoming the first African American to grace the cover of the Victoria's Secret catalog and officially earned her wings as a Victoria's Secret Angel. Talk about breaking those glass ceilings!
Now, zip forward to 2010, Tyra was like, "I'm back, baby!" She re-signed with her OG modeling squad, IMG Models. But she didn't stop at just strutting her stuff; she jumped into the digital realm as a contributor for the Vogue Italia website, proving she's not just a pretty face but also a fashion genius.
Then, in 2013, Tyra pulled off something totally epic – a shape-shifting transformation where she morphed into 15 different supermodels, all in cahoots with the fashion photographer extraordinaire, Udo Spreitzenbarth. Talk about being a master of disguise!
But hold onto your hats because there's more! In 2019, Tyra Banks made a jaw-dropping return from her modeling retirement. She graced one of the three covers of the 2019 Sports Illustrated Swimsuit Issue, alongside Camille Kostek and Alex Morgan. And guess what – it was her third time on the cover, a whopping 22 years after her first appearance. She's basically the Benjamin Button of the fashion world!
How to Become a Victoria's Secret Model?
So, you've always dreamt of strutting your stuff as a Victoria's Secret model, rocking those iconic wings, and basking in the glamour of the fashion world? Well, you're not alone. Many of us in Gen Z aspire to join the ranks of these confident, beautiful, and empowered models. And guess what? It's a competitive journey, but not impossible! Here's your complete guide on how to make that dream a reality.
**1. Snap That Portfolio, Like, Seriously:
To kick-start your journey into the modeling world, you'll need a killer portfolio that's, like, totally you. Think of it as your Instagram feed but even more lit. It's what potential agents and clients will use to check you out.
Find photographers who get your vibe and can capture your essence. Collaborate with makeup artists to create different looks that show off your versatility. Don't be basic – mix it up with a variety of photos, from fierce and edgy to soft and dreamy.
Pro Tip: Don't hesitate to experiment with different locations, lighting, and moods. Your portfolio should tell your Gen Z story and showcase your whole range.
**2. Modeling Bootcamp – Time to Level Up:
Once you've got that dope portfolio, think about enrolling in a modeling school or agency. It's like leveling up your skills and learning all the ins and outs of the industry. These programs are, like, the cheat codes to success. They teach you runway walking, posing, makeup hacks, and even the business side of modeling.
Choose a modeling school or agency that's legit. They should have a history of producing successful models and hooking them up with big names. Getting the right training can give you an edge in this competitive game.
**3. Stay Fit and Keep Slayin':
One thing you gotta know about Victoria's Secret models – they're fitness goals AF. To compete at that level, you've got to commit to a healthy lifestyle.
Hit the gym, try trendy workouts like HIIT or Pilates, and stay active. Regular exercise not only keeps you in shape but also boosts your confidence. And remember, it's all about being strong and healthy, not just skinny.
Your diet matters too. Fuel your body with healthy foods and never skip meals. If you need help, consider consulting a nutritionist or a personal trainer to create a diet plan that's, like, totally tailored to your body goals.
**4. Height and Shape Game – It's Not One Size Fits All:
Victoria's Secret models may be tall, but there's no strict height rule. Most of them are in the range of 5'9″ to 6'0″, but hey, there are exceptions!
The hourglass figure is often the ideal, but diversity is in. Embrace your unique features, and remember that confidence is your secret weapon. Just be yourself, and let your personality shine.
**5. Network Like a Pro:
In the digital age, networking is everything. Connect with industry insiders on Instagram, TikTok, and even LinkedIn. These platforms are your secret sauce for building relationships with photographers, agents, and fellow models.
Go to fashion events, shows, and castings. These are prime opportunities to meet the cool cats in the industry. Be genuine, engage with others, and always have your killer portfolio ready to show off your talents.
Pro Tip: Your online game matters! Use social media to share your modeling journey, interact with your followers, and get that exposure. Many models are discovered on social media, so having a strong online presence can boost your chances.
**6. Agent Love – They've Got the Hookup:
While some models go solo, having an agency on your side can be a game-changer. Agencies have connections, access to top clients, and can handle the business side of things.
To get signed, send your portfolio and hit up open calls or castings. Look for agencies with a track record of repping successful models in your lane. If you land representation, your agency will guide you through the industry and help you secure gigs.
**7. Insta-Model – Sliding into the DMs:
In today's world, social media is your ticket to fame. Instagram, in particular, can help you showcase your work and gain that exposure.
Create an Instagram profile dedicated to your modeling journey. Share your pro pics, behind-the-scenes moments, and a sneak peek into your life. Engage with your followers by responding to comments and using the right hashtags. Collaborate with other models or photographers for shoutouts and features.
Building a big following can get you noticed by scouts and clients. Some models have blown up through their Insta game alone.
**8. Strut Your Stuff – Werk It:
If you want to rock the runway, practice your walk like it's your signature dance move. The Victoria's Secret runway is all about confidence and drama.
Study videos of top runway models and practice your walk in front of a mirror. You can find tutorials online that break down the art of strutting your stuff. Consider taking runway classes if they're around – they can give you valuable feedback.
**9. Casting Calls – Show Up and Show Out:
Stay in the loop about casting calls for Victoria's Secret and other major brands. This is where you flex your skills and get noticed by casting directors and scouts.
Keep an eye on websites, social media, and agency listings for casting announcements. Go to as many as you can – it's a numbers game, and persistence can pay off big time.
**10. Stay Savage, Stay Positive:
The modeling world can be savage, and you might face more no's than yes's. Keep your head up, stay positive, and keep grinding.
Keep that attitude positive and your work ethic strong. How you carry yourself can set you apart. Remember that even the biggest models faced rejection before they blew up.
**11. Professional AF:
Being professional is non-negotiable. Models need to be on time, reliable, and easy to work with. Always show up prepared, well-groomed, and ready to slay.
Treat everyone with respect and kindness, from photographers to makeup artists. Your reputation is your golden ticket in this industry, and being professional and pleasant can lead to repeat gigs and referrals.
**12. Know the Legal Lowdown:
Every place has its own rules for modeling. Make sure you know what's up with permits, work visas, and all that legal stuff in your area.
If you're planning to globetrot, research visa requirements for the countries you want to hit up. Some places are strict about work visas for foreign models, so be on top of the legal game.
There you have it, aspiring models! Your ultimate guide to becoming a Victoria's Secret model in the easiest ways we know is already revealed. Now go out there, slay, and make your dreams happen!
Takeaway
So, there you have it—the dazzling world of Victoria's Secret's highest-paid models unveiled before your very eyes. From stunning runways to lucrative brand endorsements and entrepreneurial ventures, these young women are proving that they've got more than just wings—they've got financial savvy that's soaring to new heights.
As we conclude our journey through the glitzy and glamorous universe of high-earning Angels, we hope you've gained a fresh perspective on the evolving landscape of the fashion industry. These models have shown us that age is just a number, and passion, determination, and hard work are the true keys to success. So what are you waiting for? Start making your runway dreams come true!
And to reveal the highest paid model of all time, just click here!