Have you ever wondered how a Disney child star transformed into a worldwide pop sensation, actress, and producer? What's the secret behind Selena Gomez's extraordinary success, and most intriguingly, what is the net worth of Selena Gomez today? Let's embark on a journey that takes us from the "Wizards of Waverly Place" sets to the glamorous stages of international music awards. 
Born and raised in Texas, Selena began her acting career in the early 2000s and swiftly became famous as the adorable Alex Russo on Disney. As she transitioned out of her Disney image, Selena's musical talent shone through, leading her to become the pop icon we know and love today. All this while also dabbling in producing and making significant strides in her acting career. 
But how has this incredible journey contributed to her net worth? Stick around as we delve deeper into understanding Selena Gomez's financial success.
Early Life and Education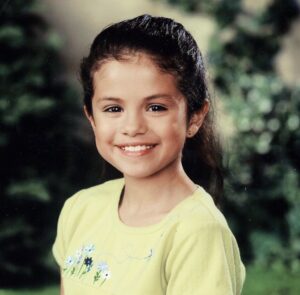 Selena Marie Gomez's story begins on July 22, 1992, in the small city of Grand Prairie, Texas. She was the cherished daughter of Ricardo Joel Gomez and Amanda Dawn Cornett, a young woman of just 16 years with a background in stage acting. Selena was named in homage to the beloved Tejano singer Selena Quintanilla-Perez. Unfortunately, her parents parted ways when she was merely five years old, leaving Selena in the care of her mother.
During these early years, life was not without its challenges. Money was often tight as her mother strived to provide for them both. Despite these hardships, Selena's determination and passion for the performing arts never wavered. Balancing her burgeoning career with her education, she achieved her high school diploma through homeschooling in 2010. Little did they know, this was just the beginning of an extraordinary journey that would lead Selena to become the global sensation she is today.
Selena Gomez's Early Career
Selena Gomez's pathway to stardom began with her role in the popular children's show "Barney and Friends" from 2002 to 2004. Portraying "Gianna," Selena appeared in 14 episodes, sharing the screen with another future star, Demi Lovato. Her early career also included cameo roles in movies such as "Spy Kids 3-D: Game Over" in 2003 and the television film "Walker, Texas Ranger: Trial by Fire" in 2005.
However, her foray into Disney marked a significant turning point in her career. Gomez made a guest appearance in the hit Disney show "The Suite Life of Zack & Cody" in 2006. But it was her recurring role in another Disney sensation, "Hannah Montana," in 2007, where she made her mark. 
Playing a pop star on the show seemingly foreshadowed her future. It wasn't long before she transitioned into a pop sensation, capturing hearts worldwide with her music.
Selena Gomez's Rise to Fame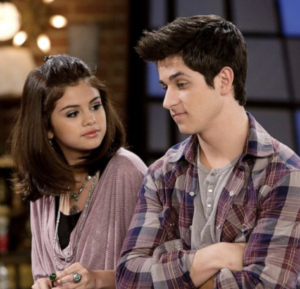 After becoming well-known for acting, Selena Gomez decided to pursue a career in the music industry. She got her break by landing the leading role in the Disney series "Wizards of Waverly Place," which aired from 2007 to 2012. This show and its two movies played a role in her early financial success. It earned her a substantial amount of $30,000 per episode.
When Selena was 16 years old in 2007, she signed a contract with Hollywood Records, a known label that has supported and nurtured young talents like Miley Cyrus and Demi Lovato. With this platform, she formed her band called 'Selena Gomez & the Scene,' and released three studio albums and one remix album during their time together. 
The band's success set the stage for Selena's solo career in music. She has since released three studio albums, two EPs, and one compilation album. Her musical journey has also included two solo tours and three tours with her band, further cementing her place in the music industry.
In addition to acting and singing accomplishments, Selena has demonstrated her spirit by establishing July Moon Productions.
She has utilized this platform to expand her influence within the entertainment industry by taking on the role of a producer for Netflix series such as '13 Reasons Why' and 'Living Undocumented.' One of her business deals occurred in September 2017 when she inked a two-year contract with Puma valued at $30 million. 
Ventures Beyond Music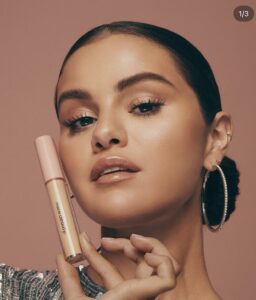 Selena Gomez did not limit herself to her successful music and acting career. She ventured into the business world as an entrepreneur. In 2020, Selena launched her makeup brand, Rare Beauty, quickly becoming a hit in the beauty industry. Noted for its cruelty-free and vegan products, Rare Beauty made a significant impact, earning a staggering $60 million in its first year alone. 
One of the line's standout products, their Soft Pinch Liquid Blush, brought in over $70 million in revenue in 2022. By July 2023, the brand had secured its position as the third most successful celebrity beauty brand, trailing only behind Rihanna's Fenty and Kylie Cosmetics.
Additionally, Selena has been a part of the hit series ' Only Murders in the Building,' where it's speculated she earns an impressive sum per episode, comparable to her co-stars. With 20 episodes aired so far, this venture has likely contributed significantly to her net worth.
Beyond her ventures in the entertainment and beauty space, Selena has shown a deep commitment to mental health awareness. In 2022, she launched a mental wellness site, Wondermind, which, aside from being a valuable resource for her fans, has also been a prosperous investment. The platform received a $5 million investment from Serena Williams' venture capital firm, Serena Ventures, pushing its worth up to $100 million in 2021 and adding to Selena's robust net worth.
Social Media And Real Estate Properties
Selena Gomez's social media presence also significantly contributes to her wealth. Boasting a massive following on Instagram, each sponsored post garners an impressive sum, making her one of the highest earners on the platform. Similarly, strategic brand partnerships with leading companies like Coach, Pantene, and Coca-Cola have played a crucial role in expanding her earnings. 
Selena's ventures aren't just limited to the entertainment and beauty industry; she also has a knack for real estate. Her luxury residence in Encino, initially custom-built by renowned singer Tom Petty, is a testament to her success in this domain. This expansive property, bought in 2020, features top-of-the-line amenities like an in-home recording studio and a gym with a massage room.
Personal Life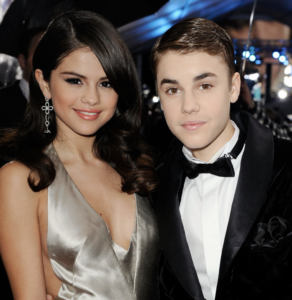 Selena's personal life has sparked as much interest as her professional one, particularly her relationships. Her brief romance with Nick Jonas in 2008 was one of her first high-profile relationships. However, the relationship that drew the most attention was her tumultuous on-and-off affair with fellow pop icon Justin Bieber. 
The ups and downs of their relationship spanned several years with cycles of break-ups and reconciliations. It exerted an immense emotional toll on Selena, reportedly leading her to seek help at a rehab facility. Bieber and Gomez finally parted ways for good in March 2018, and Justin has since married Hailey Bieber.
Another significant relationship in Selena's life was with The Weeknd. The two were romantically involved for most of 2017, and this relationship impacted their creative outputs. The Weeknd's album "My Dear Melancholy," released in March 2018, is believed to contain several references to Gomez.
Beyond romantic relationships, Selena has formed strong bonds within the industry, one of the most notable being with Taylor Swift. She has often referred to Swift as her "only" friend in the industry, highlighting their close and supportive bond.
Philanthropy
Selena Gomez has actively participated in various charitable endeavors throughout her career. She emphasized the importance of giving back to the community. She has been closely involved with UNICEF, even participating in their trick-or-treat fundraising program as an ambassador. Her commitment to making a difference led her to travel to countries like Ghana and Chile to understand the adversities faced by impoverished children and their families. 
Selena harnessed her influential status to shed light on these issues, promoting awareness globally. She's also played a pivotal role in charity organizations such as DoSomething.org and RAISE Hope for Congo, further showcasing her dedication to philanthropy. 
In 2012, she was appointed as an ambassador for the Ryan Seacrest Foundation, a non-profit organization dedicated to inspiring today's youth through entertainment and education-focused initiatives. 
She also advocated for safe driving practices through a series of commercials by State Farm Insurance that aired on Disney Channel, indicating her commitment to public safety. 
Health Issues and Controversies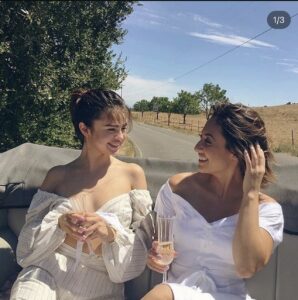 Selena Gomez has faced numerous health challenges, many of which have been in the public eye. She was diagnosed with Lupus in 2014, eventually leading to kidney failure. In a life-saving act of kindness, her longtime friend, Francia Raisa, donated one of her kidneys to Gomez in September 2017. However, their friendship reportedly soured by 2018 due to Raisa's disapproval of Gomez's lifestyle post-transplant, fueling rumors and controversy.
In April 2020, Selena revealed she had been diagnosed with Bipolar Disorder. Further, in November 2022, she publicly addressed having experienced an episode of psychosis in 2018. Following these revelations, Gomez faced accusations of ingratitude towards her kidney donor. It stems from rumors about her continued engagement in harmful habits like smoking and drinking, which could potentially affect her new kidney.
This period saw a swirl of internet drama, including speculative TikTok featuring Kylie Jenner and a hiatus from social media for Gomez due to rumors of a feud with Hailey Bieber. However, on March 24, both Gomez and Bieber took to Instagram to address and denounce the negativity directed towards each other. They recently indicated via social media posts that no ill will exists between them, putting the rumors of their alleged feud to rest.
Awards and Recognition
Selena Gomez has received awards throughout her career for her pursuits. She has been honored with American Music Awards, Billboard Latin Music Awards, Kids Choice Awards, People's Choice Awards, and a prestigious MTV Video Music Award. In addition to that, she has been recognized as one of TIME Magazine's People in the World and featured on the Forbes 30 Under 30 List.
In November 2019, Selena was granted a star on the Hollywood Walk of Fame, which is quite impressive considering her age. She also holds two Guinness World Records; one for having the most-liked Instagram post and another for having the number of followers on Instagram.
What Is The Net Worth Of Selena Gomez?
Selena Gomez has come a long way since her days as an actress on Barney and Friends.' Her estimated fortune is around $800 million, showcasing her success in her professional endeavors. With a portfolio of investments in real estate, fashion ventures, and collaborations with brands, Gomez has firmly established herself as one of the most influential celebrities worldwide. 
Moreover, her commitment to philanthropy further elevates her image. It demonstrates her desire to impact her own life and the lives of others. Therefore, it's evident that Selena Gomez is not only an established star but also an enterprising individual who continuously strives for success and strives to do good for others.
Frequently Asked Questions  
Q: Who are the family members of Selena Gomez?
Selena Gomez's family includes her mother, Mandy Teefey, who's an actress, and her father, Ricardo Joel Gomez. She also shares a bond with her sister, Gracie Elliot Teefey.
Q: Where does Selena Gomez reside?
Selena Gomez currently lives in the city of Los Angeles. LA is renowned for its vibrant arts scene and delightful weather. It has played a role in shaping Selena's career.
Q: What is the connection between Selena Gomez and Ariana Grande?
Although both Selena Gomez and Ariana Grande are accomplished pop stars with fan bases, they have styles and career paths. In interviews and on social media platforms, they have expressed admiration and often show support for each other's musical releases.
Q: Has Selena Gomez made any contributions to society?
Absolutely! Selena Gomez is well known for her philanthropic efforts. She has founded the Rare Impact Fund. It aims to raise $100 million over the decade to improve access to health services for underserved communities.
Q: Has Selena Gomez worked on animated projects?
Yes! Selena Gomez lent her voice to the character Mavis in the animated film series called 'Hotel Transylvania.' The audience loved her performance. The series became a success globally.
Conclusion
When we reflect on the journey of Selena Gomez, it becomes evident that she is more than a known name. Despite her obstacles and controversies, her determination, talent, and commitment to philanthropy make her stand out. Starting from her days on children's television to her triumphs as a successful artist and influential figure. She has earned her place in the limelight and utilized it to bring about positive change. With a worth of $800 million, she has proven herself to be a celebrity and an astute entrepreneur.
As someone who admires her work, I am eagerly anticipating what lies ahead in her journey. It is truly inspiring to see that the question "What is Selena Gomez's net worth?" extends beyond value and encompasses a wealth of talent, empathy, and resilience that distinguishes her from others.