It's truly fascinating how certain artists have the ability to go beyond their field and explore other areas. It becomes more intriguing when they accumulate a fortune that places them in the billionaire club. So, what is the net worth of Rihanna?
Rihanna, the artist from Barbados who burst onto the music scene with her chart-topping hits, has not only transformed the music industry but has also left her mark on the worlds of beauty and fashion. Her journey from beginnings to superstardom is truly incredible. However, her story had a twist when Forbes declared her a billionaire. Yes you heard it correctly! Rihanna isn't just a platinum artist—she's also achieved billionaire status!
Now, let's dive into the ventures that have contributed to Rihanna's impressive net worth and made her the wealthiest female musician in the world. 
Early Life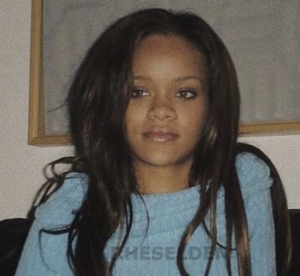 Born as Robyn Fenty on the 20th of February, 1988, in the picturesque Saint Michael, Barbados, Rihanna hails from a diverse ancestry comprising Afro-Barbadian, Afro-Guyanese, and Irish roots. Her childhood was far from idyllic, marred by her father's battles against addiction to alcohol and crack cocaine. Amidst the familial turbulence, young Rihanna sought refuge in music, a sanctuary where she found her calling. 
The opportunity came knocking in the form of American record producer Evan Rogers, who was captivated by her talent during his visit to Barbados. He recognized her potential and brought her to the United States, setting the stage for her meteoric rise. 
Under the aegis of Rogers and Carl Sturken, she began her professional journey by recording music demos at their production company. This marked the beginning of Rihanna's illustrious career and the initial steps towards her current net worth.
Rise To Stardom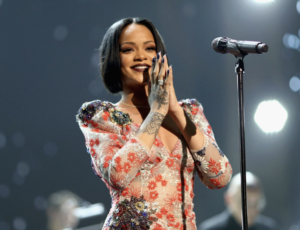 In a fortunate turn of events, Rihanna's demo caught the attention of rapper Jay-Z, who was then helming the affairs as the CEO of Def Jam Records. Impressed by her talent, Jay-Z invited her for an audition and immediately signed her for a six-album deal in 2004. 
Debut & Early Success
Rihanna embarked on her journey with her debut studio album "Music of the Sun" in 2005, in collaboration with a team of producers, including Jay-Z. This was promptly followed by another album, "A Girl Like Me," in 2006, earning her the first platinum certification from the RIAA. 
Global Recognition
The real breakthrough in Rihanna's career was her 2007 album "Good Girl Gone Bad." Garnering positive critical acclaim, it featured the mega-hit single "Umbrella," which sold over 8 million copies globally and earned her a Grammy Award in 2008 for Best Rap/Sung Collaboration with Jay-Z. 
Continued Successes
Rihanna's talent in the music industry continues to shine as she consistently releases commercially successful albums. Some of her albums include "Rated R," "Loud," "Talk That Talk," "Unapologetic," and "Anti." 
She often collaborates with known artists, creating memorable songs like the electrifying "Run This Town" with Jay Z and Kanye West, the emotionally charged "Love the Way You Lie" with Eminem, the intriguing "Princess of China" with Coldplay, the heartfelt "Take Care" with Drake and the energizing, "This Is What You Came For," with Calvin Harris. These collaborations do not only showcase Rihanna's versatility. It also contributed significantly to her increasing net worth.
Recent Releases
After a hiatus, Rihanna returned to the music scene in 2022 with her single "Lift Me Up" from the "Black Panther: Wakanda Forever" soundtrack. This marked her first solo musical release since her 2016 album "Anti." Rihanna began 2023 on a high note by headlining the Super Bowl LVII halftime show, setting a new record as the most-watched halftime show ever. 
Indeed, these successful ventures and collaborations in the music industry significantly contributed to Rihanna's astounding net worth. Stay tuned as we delve further into her other ventures.
Acting Career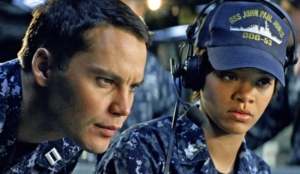 Rihanna didn't limit her endeavors to the music industry. She also explored acting and television. Her first on-screen appearance was a role in the movie "Bring It On: All or Nothing" in 2006. After that, she hosted her fashion-focused TV show called "Styled to Rock," which premiered in the UK in 2012 and later aired in the US in 2013.
Rihanna's acting career expanded with film roles. She made her debut in the sci-fi action film "Battleship" in 2012, followed by appearances in "Valerian and the City of a Thousand Planets" (2017). The female-led heist movie "Oceans 8" (2018). She also starred in the film "Guava Island" released in 2019.
In animated movies, Rihanna lent her voice to the character Tip in the 2015 film "Home," for which she also created a concept album as part of its soundtrack. 
Business Ventures
Rihanna's entrepreneurial spirit is as formidable as her musical prowess. In the tech sector, she inked a noteworthy $25 million deal with Samsung in 2015 to endorse their popular Galaxy line of gadgets. Rihanna has also made her mark in the advertising world, associating with a string of high-end brands, such as Dior, Gucci, and Clinique, to name a few. She even had her stint in the fragrance industry with Secret Body Spray. 
Her passion for fashion led to a groundbreaking alliance with Puma in 2014, where she took on the role of the creative director for the brand's women's line. Her innovative designs and the star power she brought to Puma resulted in highly successful apparel and footwear collaborations that flew off the shelves. 
Rihanna's entrepreneurial ventures extended to cosmetics, too, with associations with MAC Cosmetics and River Island. Moreover, she stepped into the music streaming industry as a co-owner of Tidal alongside other star-studded names like Jay-Z, Madonna, and Kanye West. 
Rihanna the Entrepreneur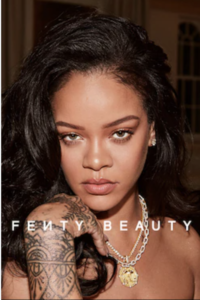 But the true testament to Rihanna's entrepreneurial genius was the launch of her brainchild, Fenty Beauty, in September 2017. Partnering with luxury conglomerate Louis Vuitton, she introduced a makeup line that championed inclusivity like never before. Fenty Beauty disrupted the cosmetics industry with an impressive range of 40 foundation shades catering to all skin types and tones. 
The success of Fenty Beauty was unprecedented, earning a whopping $100 million in sales within the first 40 days of its launch. This venture significantly amplified Rihanna's net worth while also cementing her status as a trailblazer in the cosmetics industry.
After conquering the cosmetics space, Rihanna set her sights on the lingerie market, launching Savage X Fenty in May 2018. Staying true to her ethos of inclusivity, the brand offered lingerie in an extensive range of sizes and a diverse palette of nude shades. 
Under Rihanna's creative direction, Savage X Fenty has redefined the lingerie industry, promoting body positivity and inclusivity. Notable for its annual runway shows, the brand has seen a phenomenal growth trajectory and is currently valued at a billion dollars. This venture has further contributed to Rihanna's impressive net worth, making her a successful musician and a dominant force in the business world.
Dabbling in Real Estate
As one would expect from someone of her stature, Rihanna has ventured into the world of an estate as part of her portfolio. Over the years, she has made property investments that significantly increased her net worth. 
For example, in March 2021, Rihanna made a move by purchasing a mansion in the luxurious Beverly Hills for $13.8 million, according to reports from the Hollywood Reporter. Not content with that achievement, a month later, she acquired an adjacent property for an additional $10 million.
However, Rihanna's real estate endeavors are not limited to Beverly Hills. She has resided in properties in cosmopolitan cities such as New York and London, each more extravagant than the last. 
Notably, as reported by the Daily Mail, Rihanna owns a $22 million estate in her home country of Barbados. These strategic real estate investments have played a role in bolstering Rihanna's impressive net worth and solidifying her reputation as a shrewd businesswoman and successful investor.
Philanthropy 
In addition to her illustrious career and business ventures, Rihanna is also renowned for her philanthropic efforts. One of her most significant contributions is through the Clara Lionel Foundation, established in 2012 to honor her grandparents, Clara and Lionel Braithwaite. The foundation is committed to improving the quality of life for communities worldwide in the areas of health, education, and emergency response. 
Demonstrating her dedication and responsiveness to global issues, Rihanna, through her foundation, generously donated $8 million in 2020 to support relief efforts during the coronavirus pandemic. Further, she extended a helping hand to abuse victims in Los Angeles, contributing more than $2 million through the foundation. 
Her charity work doesn't stop there; the Clara Lionel Foundation has also pledged $5 million to various other charities. Rihanna's philanthropic endeavor through the foundation justifies her reputation as one of the most charitable celebrities globally and further adds to her extraordinary persona beyond her immense net worth.
Personal Life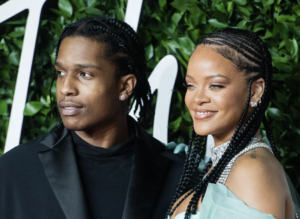 Rihanna's personal life has been just as fascinating as her career, characterized by her connections with known individuals. We all remember her publicized relationship with fellow musician Chris Brown, which ended in 2009 due to reported domestic violence incidents. 
Since then, Rihanna has been linked romantically to celebrities. These include baseball star Matt Kemp, singer Drake, and Saudi business tycoon Hassan Jameel. Presently, Rihanna is in a loving relationship with ASAP Rocky. They have two children together. Despite these relationships, Rihanna has yet to walk down the aisle and get married.
Musical Achievements
Singer Rihanna has carved out an illustrious path in the relatively short span of her music career, garnering critical acclaim and numerous accolades. She has bagged eight Grammy Awards and 14 Billboard Music Awards, a testament to her musical talent and popularity. Her distinctive sound and style have catapulted 14 of her songs to the top of the Billboard Hot 100 list, setting a record for the quickest ascension. 
Rihanna's musical prowess extends to her album and song sales, too. She boasts impressive global sales, having sold 54 million albums and a whopping 210 million songs worldwide. Rihanna's stage presence and concert performances are equally renowned. 
She made history as the first artist to deliver ten concerts at the celebrated Arena in London. It further consolidated her status in the international music scene.
What Is The Net Worth Of Rihanna?
With a music career that began in 2005 alongside her debut album "Music of the Sun," Rihanna has undoubtedly made a name for herself. According to Forbes, Rihanna's impressive wealth is estimated to be around $1.4 billion, solidifying her position as a billionaire. 
A significant portion of her fortune can be attributed to Fenty Beauty, a beauty brand she co-owns and which contributes 50% of her worth. In addition to her involvement with Fenty Beauty, Rihanna's earnings as a performer also boost her net worth. 
Her journey from being a pop icon to becoming a billionaire entrepreneur has been truly extraordinary, as evidenced by her recognition as Glamours Woman of the Year in 2009.
Frequently Asked Questions
Q: How does Rihanna's net worth compare to Taylor Swift and Oprah Winfrey?
Forbes estimates Rihanna's net worth at $1.4 billion, making her one of the world's richest female musicians. This places her ahead of Taylor Swift, whose net worth is estimated at $780 million. However, she still falls behind TV mogul Oprah Winfrey, whose net worth is $2.5 billion.
Q: What is Fenty Skin? How does it impact Rihanna's wealth?
Rihanna's known beauty brand, Fenty Beauty, is a part of her skincare line called Fenty Skin. It significantly contributes to Rihanna's wealth. Fenty Skin, co-owned by Rihanna and LVMH CEO Bernard Arnault, has brought about changes and high-quality products in the beauty industry.
Q: Who are Rihanna's parents?
Rihanna was born on February 20, 1988, in Barbados as the daughter of accountant Monica Braithwaite and warehouse supervisor Ronald Fenty. Her parents are Afro-Barbadian. She has siblings named Rorrey, Rajad Fenty, Jamie, Kandy, and Samantha.
Q: Has Rihanna won any American Music Awards?
Yes! In addition to the accolades, she has received throughout her career as a global pop icon. Rihanna has also been honored with multiple American Music Awards.
Q: What is the name of Rihanna and AP Rocky's child?
Rihanna and A$AP Rocky have two children whom they're proud of. Their firstborn son is named RZA Athelston Mayers. The youngest child, born on August 3 in Los Angeles, has a name that starts with the letter "R."
Conclusion 
Rihanna's rise to becoming a billionaire is truly inspiring. She is a force in the music industry and a remarkable figure in the business world. Her impact can be felt in every aspect of her work, from her chart-topping hits that revolutionized pop music to her groundbreaking beauty brand, Fenty Beauty. 
I have witnessed how she has used her platform to redefine beauty standards and promote inclusivity, which is both impressive and essential. Rihanna's ventures, like Savage X Fenty's lingerie brand and real estate investments, all showcase her strategic approach that's uniquely hers. 
I am amazed by her dedication to philanthropy through the Clara Lionel Foundation. Rihanna exemplifies the power of determination, creativity, and courage in paving your way. It has been an honor to witness her journey unfold. I eagerly anticipate what she will accomplish next.