In music, few names resonate as powerfully as that of Sir James Paul McCartney. McCartney's solo and Beatles efforts have greatly influenced the music industry. So, what is the net worth of Paul McCartney?
McCartney has diversified his income sources from real estate to numerous assets, considerably impacting his net worth.
This article will go into McCartney's financial trajectory, looking at his childhood, music career, commercial enterprises, and charity initiatives, all of which contribute to his net worth. So sit back and join us as we unravel the route that has led to Paul McCartney's exceptional net worth.
McCartney's Personal Life and Interest in Music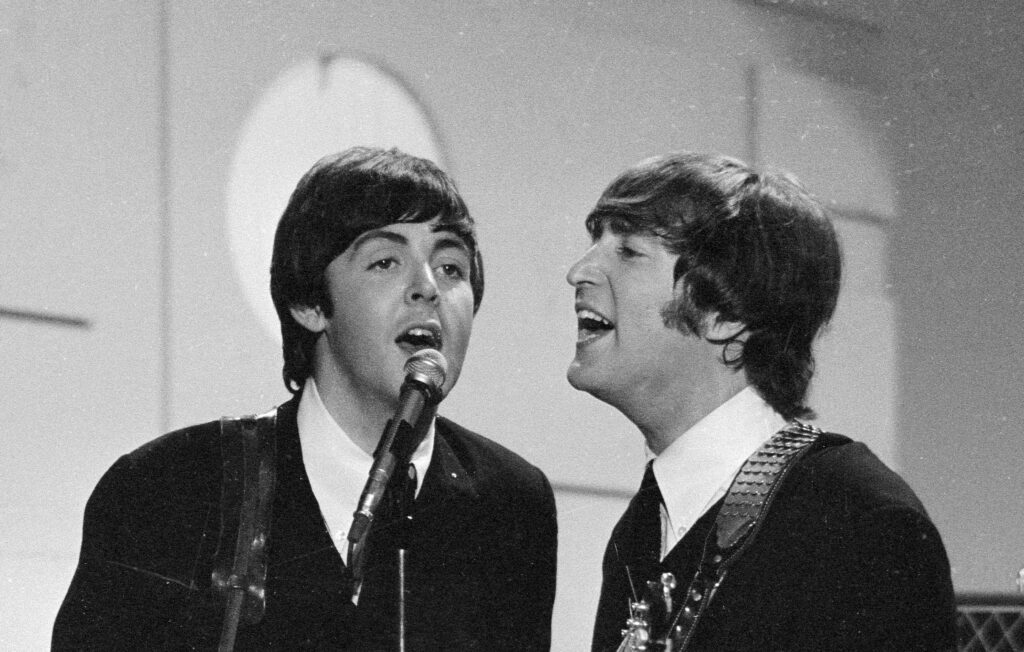 As I go back in time, I find myself in the modest beginnings of a guy who would change music. Sir James Paul McCartney was born in Liverpool, England, on June 18, 1942.
From the get-go, young Paul seemed destined for greatness. He was born into a home where music was always present. His mother, Mary Patricia, was a nurse and midwife, while his father, Jim McCartney, was a cotton salesman and a keen jazz pianist. McCartney ignited the fire of passion for music at a tender age. At 14, he received a trumpet as a birthday gift from his father. However, the desire to sing while playing an instrument led him to trade his trumpet for a Framus Zenith acoustic guitar.
McCartney's early life was not without tragedy. His mother passed away due to complications from breast cancer when he was just 14. Loss and desire eventually find their way into his beautiful words and inspiring songs, touching millions worldwide.
In his teenage years, McCartney's talent began to shine brightly. After realizing he was more comfortable that way, he mastered playing the guitar, even teaching himself to play it left-handed. He penned his first song, "I Lost My Little Girl," at 14.
McCartney met John Lennon at a local church festival during these formative years. The two instantly became friends due to their shared love of music and the personal circumstances of losing a mother at a young age.
Formation and Success of The Beatles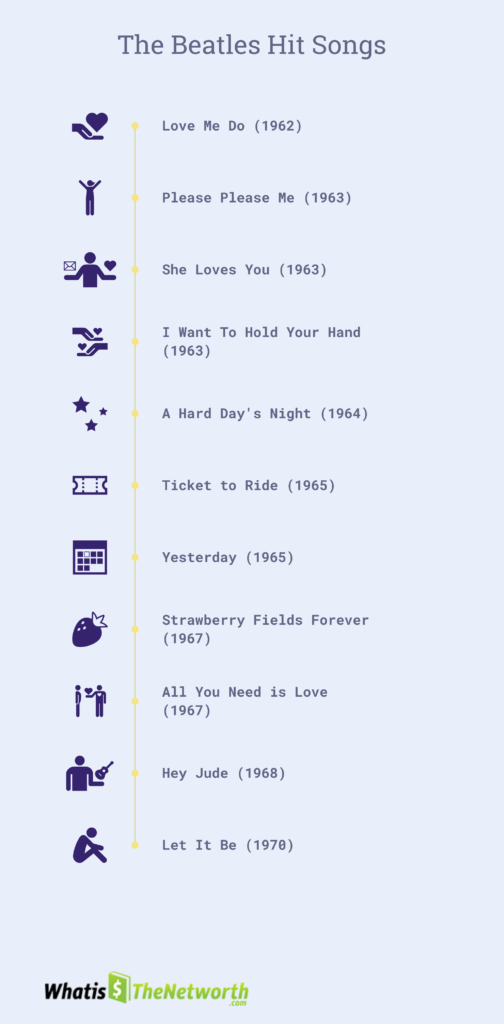 In the vibrant music scene of Liverpool, a spark ignited that would forever change the landscape of popular music. The year was 1957, and the flame was lit when a young Paul McCartney met John Lennon at a local church fête. As destiny would have it, this fortuitous encounter resulted in the formation of the most influential band in rock music history – The Beatles.
The formation of The Beatles was not an overnight event. It was a gradual process that began with McCartney joining Lennon's band, The Quarrymen. McCartney's addition brought a new dynamic to the group. The pair immediately recruited a friend of McCartney's, George Harrison, to join the group. Subsequently, Ringo Starr completed the roster, becoming the legendary four we know today as The Beatles.
Success did not come instantly for the fledgling band. They spent their early years developing art at venues in Hamburg, Germany, and Liverpool, England.
The tide turned dramatically for The Beatles in 1962 when they signed a contract with EMI's Parlophone label under the guidance of producer George Martin. Their debut song, "Love Me Do," peaked at number 17 in the UK charts, a modest start for a band on the rise.
In 1963, the Beatles released their debut album, "Please Please Me." The album topped the UK charts for 30 weeks, sparking "Beatlemania." This extraordinary surge of fanaticism swept the UK and captivated spectators worldwide.
🎶Hit Songs of The Beatles
The Beatles' discography is a treasure repository of enduring melodies adored by music lovers worldwide. Each song, a masterpiece in its own right, carries the unique Beatles' signature – a blend of innovative melodies, profound lyrics, and groundbreaking production techniques. Let's take a musical journey through some of their most iconic songs:
➡"Love Me Do" (1962)
The Beatles' first single debuted their characteristic harmonies and John Lennon's harp.
➡"Please Please Me" (1963)
The title tune of their first album showcases their adeptness in songwriting via its lively and energetic arrangement.
➡"She Loves You" (1963)
A song that encapsulates the fervor of Beatlemania with its infectious "yeah, yeah, yeah" chorus.
➡"I Want To Hold Your Hand" (1963)
This song broke The Beatles in America and sparked the British Invasion.
➡"A Hard Day's Night" (1964)
The title track from their third studio album and first film, this song is notable for its opening chord, which has been the subject of much debate among musicians.
➡"Ticket to Ride" (1965)
Featured in their second film, "Help!," this song marked a turning point in The Beatles' songwriting, moving towards more complex arrangements.
➡"Yesterday" (1965)
One of The Beatles' most covered songs, this McCartney ballad is renowned for its simple, poignant melody.
➡"Strawberry Fields Forever" (1967)
This song, a psychedelic masterpiece from the "Sgt. Pepper" era, showcases Lennon's introspective songwriting.
➡"All You Need is Love" (1967)
This tune, published during the Summer of Love, became the anthem of the peace movement of the 1960s.
➡"Hey Jude" (1968)
A seven-minute epic that is one of their most enduring hits, known for its sing-along coda.
➡"Let It Be" (1970)
The title track from their final studio album, this song features one of McCartney's most memorable melodies.
McCartney's Solo Career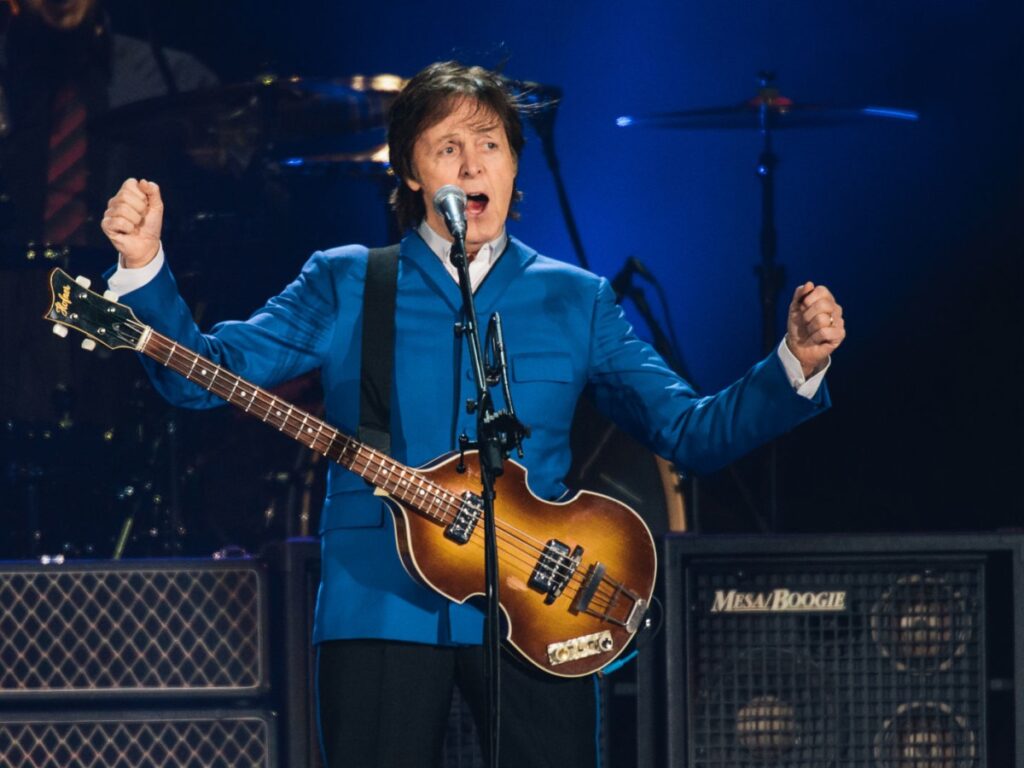 Following the disbandment of The Beatles in 1970, Paul McCartney embarked on a solo journey that would further solidify his status as a musical icon. There were doubts and uncertainties, and as reported by Vanity Fair, McCartney himself wasn't sure if he should "keep going" after The Beatles.
McCartney's post-Beatles career began with the release of his self-titled debut album, "McCartney," in 1970. The classic "Maybe I'm Amazed," a sincere ballad that has since become one of McCartney's hallmark pieces on this album.
His later albums, such as "Ram" (1971) and "Band on the Run" (1973), released by Paul McCartney and Wings, demonstrated his flexibility as a composer and guitarist.
These albums, along with others like "Venus and Mars" (1975) and "Tug of War" (1982), were commercial successes that produced numerous hit singles and earned critical acclaim.
🎵Successful Albums and Tours as a Solo Artist
As McCartney's solo career expanded, he continued to compose songs that captivated listeners worldwide. His album "Flaming Pie" (1997) is considered one of his finest solo works.
The album reverted to his origins, containing uncomplicated, wonderfully written songs that reminded fans of his timeless songwriting talents. It was produced during a sabbatical from his participation in The Beatles Anthology project.
In recent years, McCartney has shown no signs of slowing down. The album "Egypt Station," released in 2018, achieved the top position on the Billboard 200 chart, indicating the significant level of popularity enjoyed by the artist's musical compositions. It was followed by "McCartney III" in 2020, an album recorded during the COVID-19 lockdown.
His tours, such as the 'Wings Over the World' tour (1975-76) and the 'Out There' tour (2013-15), have attracted millions of fans across the globe.
Business Ventures and How They Contributed to His Wealth
McCartney's commercial pursuits have been instrumental in amassing his substantial riches and are a tribute to his strategic understanding.
In the early days of The Beatles, McCartney and his bandmates established Northern Songs Ltd., a publishing company that held the rights to their music.
Although The Beatles eventually sold their stake in Northern Songs, McCartney later made a savvy business move by buying the rights to numerous Beatles catalogs, including Buddy Holly's.
MPL Communications, his publishing firm, today holds one of the world's biggest privately owned portfolios, comprising works by artists as varied as Carl Perkins, Harold Arlen, and Jerry Herman.
McCartney's ventures aren't limited to music publishing. For instance, he's a co-owner of the High Park Farm in Scotland, where he practices organic farming.
This project is related to his long-standing support of vegetarianism and animal rights, and it inspired the establishment of Linda McCartney Foods, a well-known vegetarian food brand bearing the name of his late wife.
What is the Net Worth of Paul McCartney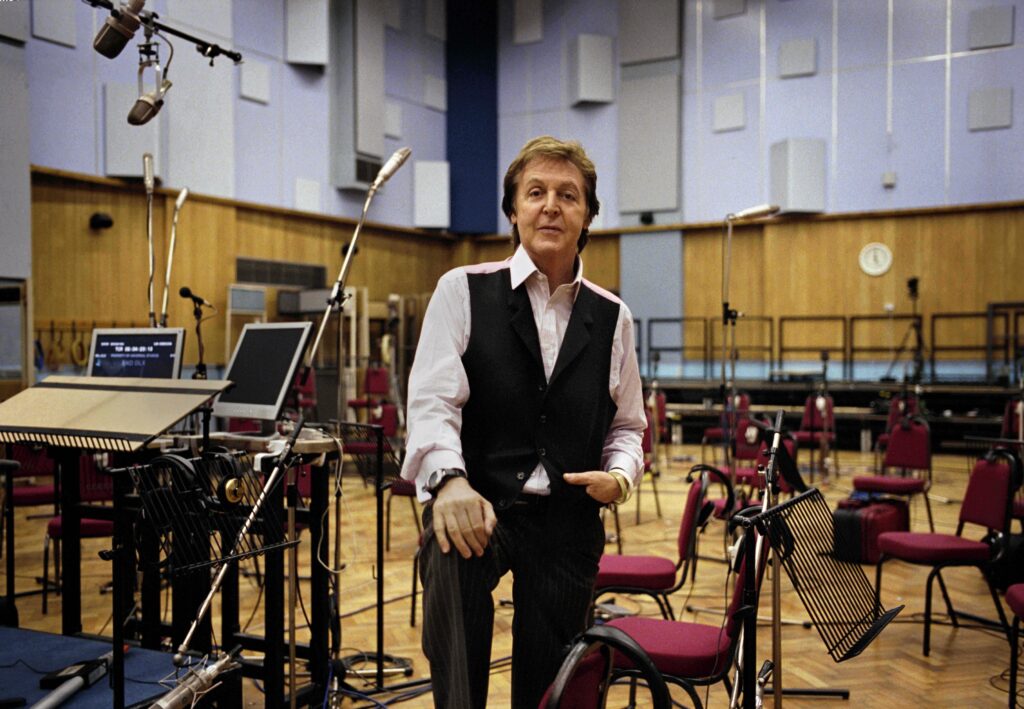 Paul McCartney's net worth is nothing short of astonishing. Paul McCartney's net worth is around $1.2 billion. It makes him one of the biggest artists in the world. This number reflects his ongoing success in the music business, his knowledge of business, and his ability to diversify sources of revenue.
McCartney's wealth primarily stems from his successful career as a musician, member of The Beatles, and solo artist. His solo career and tours have also been highly profitable, with his concerts often selling out stadiums worldwide.
However, music is not the sole contributor to McCartney's significant wealth. His well-thought-out business endeavors, like his music publishing firm MPL Communications, have paid off handsomely. In addition, his venture into vegetarian food goods via Linda McCartney Foods has increased his wealth.
💹Factors Influencing the Growth of McCartney's Wealth Over Time
Successful Music Career: McCartney's music career, spanning over six decades, has been a primary source of his wealth.
Strategic Business Ventures: McCartney's savvy business decisions, notably his investment in music publishing, have contributed substantially to his wealth.
Brand Endorsements and Partnerships: McCartney has entered into various profitable brand endorsements and partnerships over the years. These include his collaboration with the video game series "Rock Band" for the release of "The Beatles: Rock Band."
Real Estate Investments: McCartney owns several high-value properties worldwide, including homes in London, New York, and the Hamptons. These real estate investments have likely appreciated over time, contributing to Paul McCartney net worth.
Linda McCartney Foods: McCartney's investment in Linda McCartney Foods, a line of vegetarian meals, reflects his ability to align his values with profitable business ventures.
Real Estate and Other Investments
The Liverpool lad, born and raised at 20 Forthlin Road, now owns many homes far removed from his humble beginnings.
In 1965, McCartney purchased a home in St John's Wood, London, for £40,000, a property he still retains today. Over the years, the value of this house has undoubtedly appreciated due to the skyrocketing London real estate market.
McCartney's holdings aren't limited to his homeland; he also owns properties internationally. His portfolio boasts a New York penthouse and an Arizona ranch, reflecting his taste for city life and serene retreats.
McCartney owns a massive 150-acre estate in England, further solidifying his place among the country's landed gentry. This secluded refuge offers him a calm respite and a place to reconnect with nature.
💰McCartney's Diverse Investment Portfolio
McCartney's investments extend beyond real estate, contributing significantly to his net worth. Here are some critical components of his investment strategy:
Music Publishing: McCartney's investment in music publishing through MPL Communications has proven lucrative. This corporation makes a consistent income by owning the rights to several tunes.
Vegetarian Food Line: McCartney's commitment to animal rights and vegetarianism led him to invest in Linda McCartney Foods, a successful line of vegetarian meals named after his late wife.
Brand Endorsements and Partnerships: McCartney has entered into profitable brand endorsements and partnerships over the years, adding another income stream to his financial portfolio.
Art Collection: McCartney is an avid art collector, and his collection has works by well-known artists like Willem de Kooning and Rene Magritte, amongst others.
McCartney's Philanthropic Symphony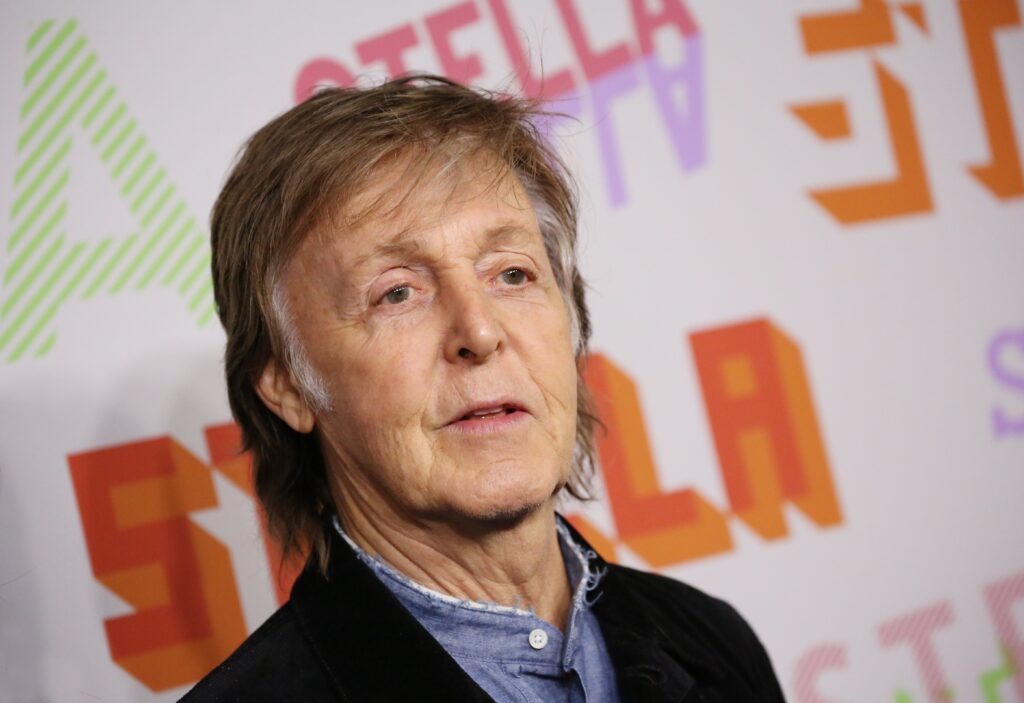 Sir Paul McCartney's charity efforts depict a man passionately devoted to making the world a better place. Although probably affecting his net worth, these acts of charity demonstrate a belief that we should use riches for more than personal benefit.
McCartney's philanthropy spans a wide range of causes:
Animal Rights and Vegetarianism: McCartney, who has been an advocate for animal rights for a very long time, has used his position to bring awareness to the issue of animal mistreatment. This commitment led him to establish the Linda McCartney Foods line, a venture that aligns with his values while also contributing to his wealth.
Music Education: Recognizing the transformative power of music, McCartney has been a strong proponent of music education. He has significantly contributed to institutions and programs that give music education opportunities, guaranteeing that future generations may find and develop their musical skills.
Environmental Conservation: McCartney has a deep affection for the outdoors and is an outspoken supporter of efforts to preserve the natural world. He supports environmental programs and promotes sustainable habits, showing his commitment to preserving the earth for future generations.
Humanitarian Causes: McCartney has a heart for people in need. Regularly, he donates to charity organizations that support victims of natural disasters, wars, and other types of catastrophes by relieving persons and communities who need it.
Frequently Asked Questions
Q: Who is the richest Beatle?
A: As of current estimates, Sir Paul is the wealthiest of The Beatles, with a net worth that significantly exceeds that of his former bandmates. McCartney's fortune originates from his legendary music career and his astute and broad financial portfolio, commercial enterprises, and large real estate holdings.
Q: Who funded the Beatles?
A: Brian Samuel Epstein initially backed The Beatles, their manager, who believed passionately in their potential and put his money on the line to support them. After signing with EMI's Parlophone label, their career skyrocketed, largely self-funded by their massive commercial success. Their later ventures, such as Apple Corps, were also financed from their earnings.
Q: What is Ringo Starr's net worth?
A: Ringo Starr, born Richard Starkey, is not just renowned as the drummer of the Beatles but also for his successful solo career and other ventures. As of recent estimates, Ringo Starr net worth is over $350 million. Like his fellow Beatles, Paul McCartney, Starr has diversified his income sources.
He has dabbled in voice acting, written many books, and appeared in several films, all of which have contributed to his significant net worth. It's clear that Ringo Starr, while perhaps not as affluent as Paul McCartney, has nevertheless carved out a highly successful and profitable career path.
Q: Who owns the Beatles royalties?
A: The Beatles' royalties, a significant source of income, are split among various entities. Primarily, the rights to the Beatles' back catalog were famously bought by pop star Michael Jackson in 1985, beating out his friend, Paul McCartney, in a move that reportedly strained their relationship. After Jackson died in 2009, his estate sold the rights to Sony.
However, Paul McCartney and Ringo Starr collect songwriter's royalties, and the late Lennon and Harrison estates also receive their respective shares. After a long legal battle, McCartney finally regained the rights to his share of The Beatles' song catalog in 2017.
Final Thoughts
As we explore Paul McCartney's financial journey to a close, it's clear that his success is an intricate composition, much like his music. McCartney's fortune is a tribute to his brilliance, financial ability, and humanitarian zeal, ranging from his large real estate estates and successful investments to his charity endeavors.
As we navigate our financial landscapes, let's take a leaf out of McCartney's book and strive to create a symphony that resonates beyond our immediate circles.
Now, what do you find most inspiring about McCartney's financial journey? How do his choices influence your perspective on wealth and success? I would much appreciate it if you could share your ideas in the comments box below. Continue with this conversation so that we might learn from one another's experiences, shall we? After all, every one of us is creating our financial symphony.