Music industry superstar Beyonce Knowles needs no introduction. The singer and composer has won several honors and has had a huge following for decades. Ever wondered, "What is the net worth of Beyonce Knowles?" Queen B is living true to her royal moniker.
Beyonce is one of the world's wealthiest musicians, with around $500 million. However, her success goes beyond money. Beyonce's skill and effort inspire many. It's no surprise she's considered one of the best performers ever.
Early Life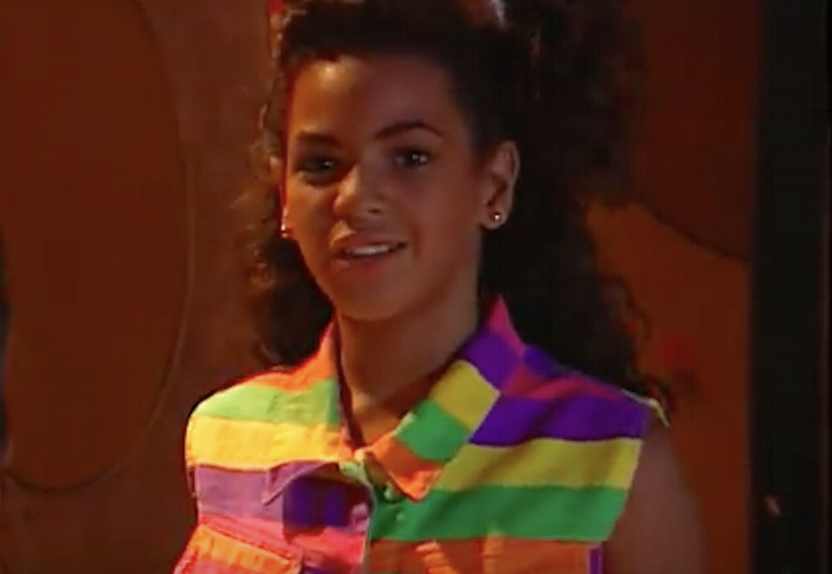 On September 4, 1981, Beyoncé Giselle Knowles Carter was born in Houston, Texas. She participated in several talent events in her city as a child since she loved to sing and act. Beyonce had a lot of assistance in becoming a performer from her family, particularly her parents, Mathew and Tina Knowles. In addition, they oversaw Destiny's Child, a well-known female group that Beyonce was a part of.
Beyonce started learning how to play the piano and drums at an early age and put a lot of effort into honing her voice. In church choirs and specific music schools, she sang a lot. She frequently listened to R&B, soul, and hip-hop music, which eventually influenced the development of her own style.
St. Mary's Elementary School was Beyonce's first school. She later attended Parker Elementary School, which is renowned for its music and art departments. She then completed her education at Houston's High School for the Performing and Visual Arts. Beyonce further studied ballet, jazz, contemporary, hip-hop, and other dance forms. They all aided in her development into the accomplished performer she is today.

Career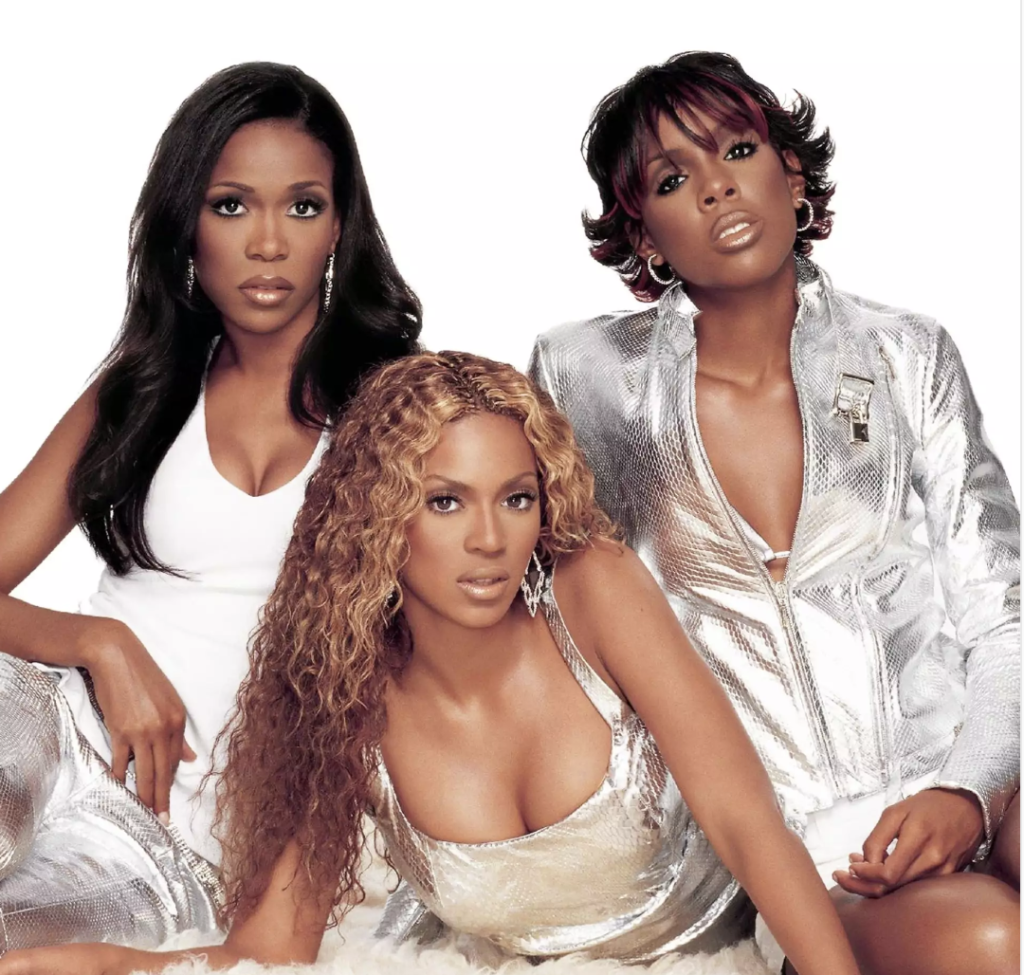 Beyonce is a big name in music who has touched hearts worldwide. She started her music journey with a group called Destiny's Child in the 1990s. As the lead singer, Beyonce quickly made a strong impression and became the group's star. The group's success was a stepping stone for Beyonce to start her own solo music career.
In 2003, Beyonce's first solo music album, "Dangerously in Love," came out. This was just the start of many albums that won high praise and sold many copies. Beyonce has a knack for blending different styles of music, like R&B, pop, and hip-hop. This shows how creative and wide-ranging her music skills are.
Her songs, like "Crazy in Love," "Single Ladies (Put a Ring on It)," and "Formation," have not only been on top of music charts but have also become parts of popular culture. But Beyonce's talent isn't just in singing. She's also known for putting on amazing live shows full of detailed dance moves, striking visuals, and great music.
Whether she's touring solo, performing at the Super Bowl halftime show, or headlining famous music festivals, Beyonce always shines on stage. Her performances are exciting and unforgettable, making her a true legend.
Acting and Directing
Beyonce didn't just stop at music. She also showed her acting skills in big movies. In the early 2000s, she played roles in several films. Her first movie was "Carmen: A Hip Hopera." After that, she was in other cool movies like "Austin Powers in Goldmember," "Fade to Black," "The Fighting Temptations," and "The Pink Panther." Later, she got bigger roles in the movies "Dreamgirls," "Cadillac Records," and "Obsessed."
But Beyonce didn't stop there! She also tried her hand at directing movies. Beyonce directed a few films, such as "Homecoming," "Life Is But a Dream," and "Black Is King." All of this proves that Beyonce is not just a great singer but also a talented actress and movie director.
Endorsement Deals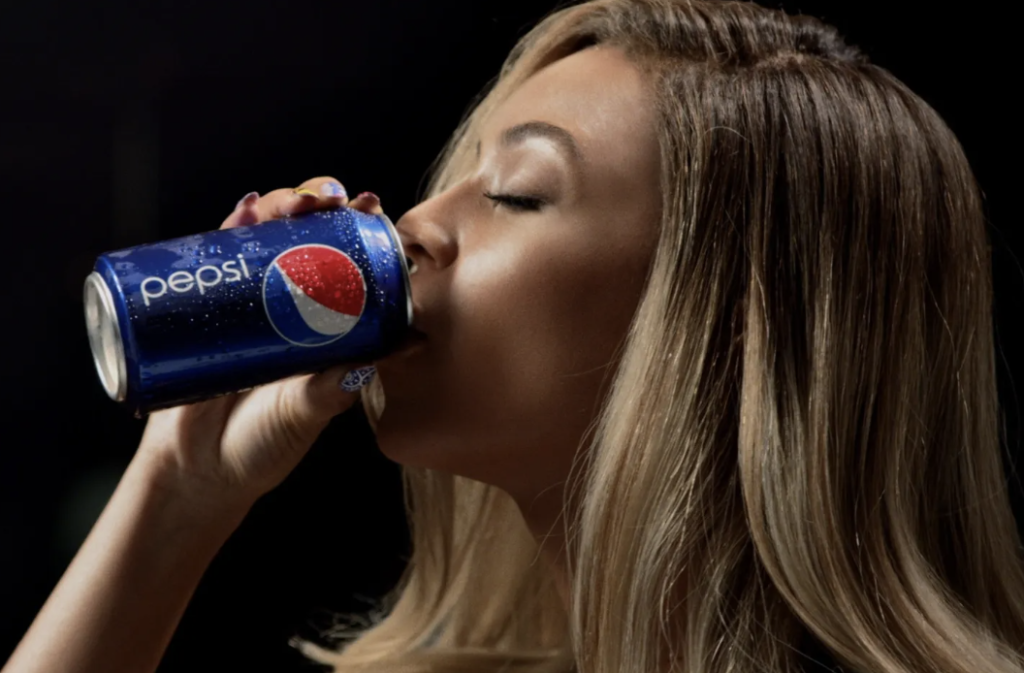 Beyonce is not just good at singing and acting; she's also really smart about business. She started working with big companies 2002, like Pepsi, L'Oreal, American Express, Samsung, Ford, and DirectTV, to promote their products. This means they paid her to use her famous name and image to help sell things.
Beyonce also made her own perfume. She worked with a company called Coty and made a special, one-of-a-kind Beyonce smell that people could buy. She made over $20 million from that deal! In total, she's made six different smells that have made more than $500 million since 2010. Her perfumes are the most successful ones made by a celebrity ever.
Beyonce also started a clothing line called House of Dereon with her mom, Tina. This shows that Beyonce is not only talented in music and movies, but she's also a very successful businesswoman.
A Big Deal with Netflix
In 2018, Beyonce made a huge deal with Netflix. They agreed to pay her $60 million for three special things she would make for them. The first thing was a movie about Beyonce's performance at a big music festival called Coachella in 2018. This movie, called "Homecoming", came out in 2019. Some people online said that Beyonce had to agree to get paid less to be allowed to film her show at Coachella.
But that's not true. Beyonce got paid the normal amount for performing at Coachella. She just told them she was going to film her show, and Coachella said yes. That's it!
Exploring The Investments of Beyonce's Wealth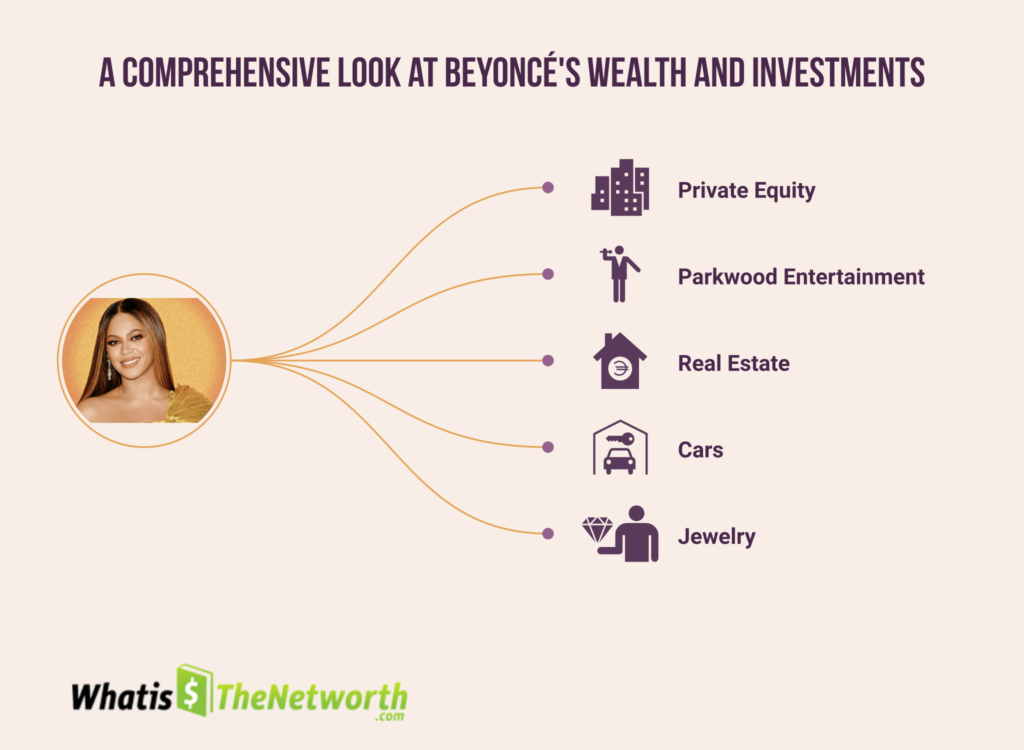 Beyonce puts her money into many different things. She doesn't just keep it in a bank. She buys fancy houses in other parts of America, puts money into new tech businesses, and even has an incredible collection of cars! Here are some of Beyonce's investments:
💸 Private Equity
Beyonce has her own perfume line, which started with a perfume called "Heat" in 2010. This perfume line has made more than $400 million! That's a lot of money. In 2016, she started her fashion brand called Ivy Park. She worked with a big sports company called Adidas to make Ivy Park even better in 2018. In 2022 alone, Ivy Park made $40 million! Beyonce is not just a singer; she is also a businesswoman and a fashion icon. She is not going to stop anytime soon.
Beyonce also puts her money into new tech companies and healthy food companies. She gave $150,000 to a tech company called Sidestep. This company is changing the way people buy things at concerts. Beyonce also invested in a company that makes a drink from watermelon called WTRMLN WTR and a vegan food company called 22 Days Nutrition. Beyonce is very good at choosing new companies to invest her money in.
🎤 Parkwood Entertainment
Beyonce took an important step in her career in 2008 when she set up her own Parkwood Entertainment company. It's been a success so far. In 2011, Beyonce made a tough choice. She said goodbye to her dad, Matthew Knowles, as her manager. He had looked after her career for almost 20 years, from the time she was in Destiny's Child to her solo music career.
Even though it was hard for her to let her dad go, Beyonce knew it was right. She made a movie about her life and journey to fame, where she talks about all this. The movie is called "Beyonce: Life Is But a Dream." Making this movie helped her feel better about her decision.
🏚 Real Estate
Beyonce Knowles and her husband, Jay-Z, really like fancy houses. They've spent more than $300 million on really big, expensive homes! They live like famous and rich people. They have a super big mansion in Bel-Air that cost $88 million. It has four swimming pools outside, a place for relaxing called a spa, a special room just for watching movies, a basketball court, and more.
They also have a nice, big house in the Hamptons that cost $26 million. In California, United States they bought a massive house in Malibu for $200 million. With all these expensive houses, Beyonce, who is already the queen of music, could also be called the 'Queen of Houses.'
🚙 Cars
Beyonce is not just a music queen; she's also a car queen. She has many super cool and shiny cars at home. These cars are not just cars; they are super special cars that go very fast and look awesome. She has cars from Italy, like the Alfa Romeo Spider Convertible and the Ferrari 458. These cars go fast and are perfect for Beyonce, who likes to go fast. She also has the Bugatti Veyron Super Sport and Lamborghini Huracan, some of the world's fastest and most impressive cars.
Beyonce also cares about our planet. She has a Tesla Model S, a car that doesn't use gas. It's like an electric car, which is good for the earth because it doesn't cause much pollution. But Beyonce also has some standard cars for everyday life. She has a Cadillac Escalade and a Chrysler Pacifica minivan. They're good for her and Jay-Z to drive their kids around.
Beyonce and Jay-Z, who are both famous and rich, have a lot of unique cars. They also have an old car from 1993, a Lexus GS300, that is still really nice. Sometimes, you can see these cars in their music videos. And the most special car they have is a Rolls-Royce Boat Tail. It's a custom car, which means it was made just for them. It cost $28 million! That's a lot of money for a car, but for Beyonce and Jay-Z, it is worth it.
💠 Jewelry
Beyonce loves shiny and beautiful things, just like her shiny and beautiful songs. She has many pieces of jewelry made by a famous jewelry maker named Lorraine Schwartz. These jewelry pieces are so beautiful they sometimes get more attention than Beyonce herself at big events.
Do you remember the big 18-carat diamond ring on Beyonce's hand? That was a gift from her husband, Jay-Z, when they got engaged. And at the 2015 Grammys, Beyonce wore jewelry made of 230 carats of emeralds and diamonds that was worth $10 million!
Even when her daughter, Blue Ivy, was born, Beyonce celebrated with a fancy 18-carat sapphire ring. Beyonce's jewelry collection is as bright and successful as her singing career. And we can't forget the $12 million necklace she wore at the 2017 Grammys. That necklace alone could be traded for a private island! All these shiny things help to increase Beyonce's net worth even more.
Private Life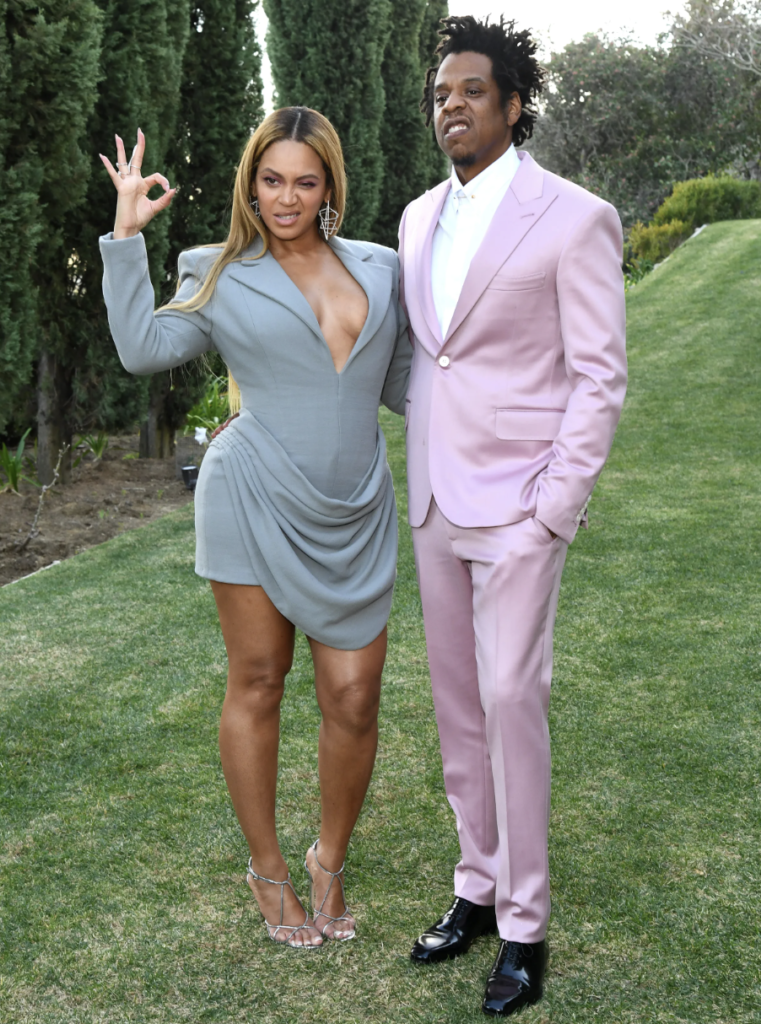 Beyonce likes to keep her personal life private. She believes her happiness comes from keeping things about her life secret. In 2008, she married a famous singer, Jay Z or Shawn Carter, who also makes music and has a business. They're parents to three kids. Their oldest daughter, Blue Ivy Carter, was born in 2012, and in 2017, their twins, Rumi and Sir, arrived. Their marriage has had some tough times.
Jay-Z once admitted that he was not always faithful to Beyonce in an interview in 2017. But Beyonce is strong, and she uses the tough times in her life to make her music even better.
Awards and Recognition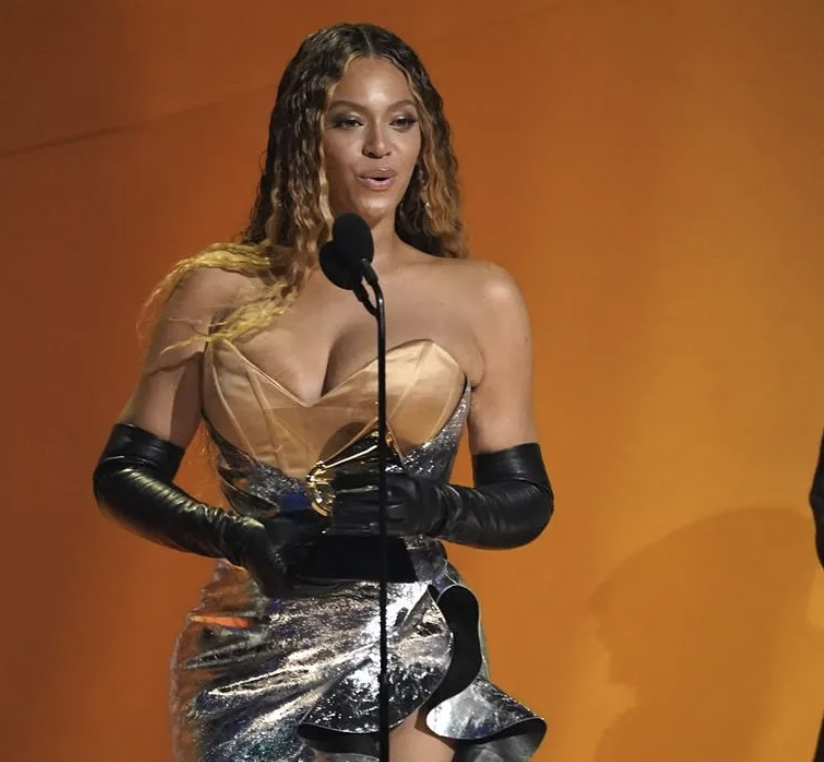 Many people love Beyonce's talent, and she has won a lot of awards. For example, she has won 32 Grammy Awards, making her the artist with the most Grammy Awards in music history. She has been recognized for her great R&B performances, cool music videos, and awesome albums.
She also won 27 Billboard Music Awards. This is a big deal because Billboard is a popular music magazine that ranks the most popular songs and albums. They gave Beyonce awards for being a top female artist and for her great R&B music.
Beyonce has also won 29 MTV Video Music Awards. MTV is a famous TV channel that plays lots of music videos. They loved Beyonce's video for "Formation" so much that they gave it the award for Video of the Year in 2016.
Beyonce also won 35 BET Awards. BET is an award show that celebrates African-American artists. Beyonce has won awards for being the best female R&B/pop artist and for having the best video.
Finally, Beyonce has won 16 American Music Awards. These awards are given to artists for their popular songs and albums in the USA. Beyonce has won awards for her soul/R&B music.
So, as you can see, Beyonce is not just a famous singer and businesswoman; she's also a big winner!
Philanthropy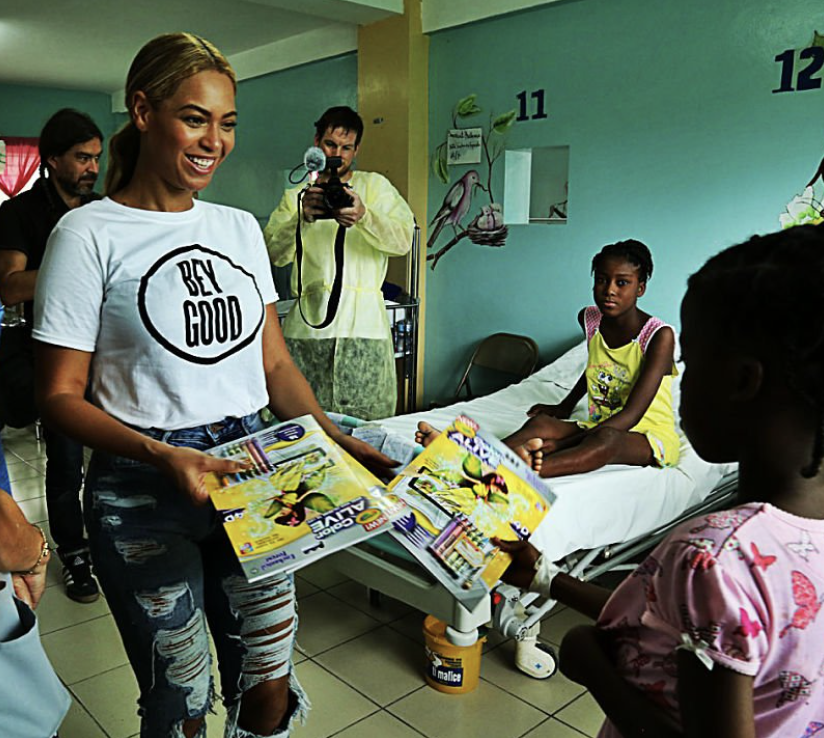 Beyoncé Knowles Carter likes to help people a lot. She created something called BeyGOOD. It's her way of helping people in lots of different ways. This includes things like helping people when there's been a disaster, helping small businesses, and fighting against COVID-19. BeyGOOD works with other groups to help even more people. Beyonce also supports #BlackLivesMatter. She uses her music and talks to people to fight against racism and violence towards Black people. She wants to see real changes and justice.
Apart from that, Beyonce has a special program for students named The Beyonce Coachella Scholars Award Program. It's for women of color who are studying in college. The program is mainly for students at Black colleges and universities, but other students can also get help from this program. It encourages students to study hard and reach for their dreams.
Beyonce also works with UNICEF. She's been a Goodwill Ambassador since 2007. In this role, she helps children all over the world. She focuses on making sure children have food, can go to school, and are protected.
When a very bad storm called Hurricane Harvey happened in Houston, where Beyonce grew up, she was there to help. She gave a lot of money to local groups like Bread of Life Inc. She also helped raise more money to help fix the damage from the storm. Beyonce always tries to help people, and that's part of why so many people love her.
Frequently Asked Questions 
Q: Did Beyonce ever go on a world tour?
Yes, Beyoncé has gone on numerous world tours. Her first solo world tour was 'The Beyoncé Experience' in 2007, which was a huge success. She's known for her powerful performances and extravagant stage setups, making her tours a must-see for fans.
Q: What role did Beyonce play in Austin Powers and The Lion King?
Beyoncé has showcased her acting talents in several films. She played Foxxy Cleopatra, a sassy and intelligent spy in "Austin Powers in Goldmember." Later, she lent her voice to the character Nala, the strong and determined lioness in Disney's "The Lion King" remake.
Q: How is Beyonce connected to Kelly Rowland and Michelle Williams?
Beyoncé, Kelly Rowland, and Michelle Williams were part of an American R&B group known as Destiny's Child. The group, under Columbia Records, was one of the best-selling girl groups of all time, showcasing their impeccable harmonies and empowering lyrics.
Q: Who is the sister of Beyonce?
Beyonce has an older sister, Solange Knowles. She is a singer, songwriter, and actress who has released several albums and EPs. She is also the founder of Saint Heron, an independent media platform that celebrates Black culture and lifestyle. Solange has been vocal about advocating for social justice and equality. 
Q: How much money does Beyoncé make on tour?
Beyoncé's tours are not just famous for their outstanding performances; they are also significant money-makers. Her Renaissance World Tour is currently the highest-grossing tour by a female artist in history. It has earned a staggering $461.2 million so far.
Final Words
Beyonce Knowles, or as some people call her, Queen Bey, is estimated to have a whopping $500 million to her name in 2023! Wow, that's a lot of money! She didn't just get all this money from singing songs, no. She made money from lots of different things like making movies, designing clothes, and even running businesses. So you see, Beyonce isn't just a famous singer, she's brilliant too!
Even though she started singing in a group called Destiny's Child, people quickly saw how amazing she was by herself. She won many awards and sold many songs – more than 170 million in America alone! Can you imagine that?
Beyonce isn't just rich and famous; she's also kind and generous. She's a big star, not just because of her music or money, but because she uses her fame to improve the world. And that's why she's seen as a global superstar!