Gal Gadot has garnered media attention for years, particularly when she assumed the character of Wonder Woman in the DC world. It's hardly surprising that people are interested in learning more about her, given her breathtaking beauty, acting prowess, and irresistible personality. 'What is the net worth of Gal Gadot?' is one of people's most often asked questions. Despite being a Hollywood superstar, many people are interested in the amount of cash this actress has amassed. She is thought to be worth around $30 million.
Get ready to dive into Gal's incredible journey as we closely examine her blockbuster films and successful business ventures.
Early Life
Gal Gadot's journey to stardom was as unique as her heritage. Born on April 30, 1985, in the bustling city of Petah Tikva, Israel, Gal was the first child of Irit, a teacher, and Michael Gadot, an engineer. Her name, Gal Gadot, holds significance in Hebrew, meaning 'waves near the riverbank.' She proudly hails from a long line of Jewish ancestry, with her grandparents being survivors of the atrocities of the Nazi regime in Europe, later settling down in Israel.
Gal's family life was enriched by the presence of her younger sister, Dana, with whom she shared many childhood memories. Before entering the limelight, Gal was a student at IDC Herzliya College, where she studied law and international relations, showcasing her diverse interests beyond acting.
Modeling Career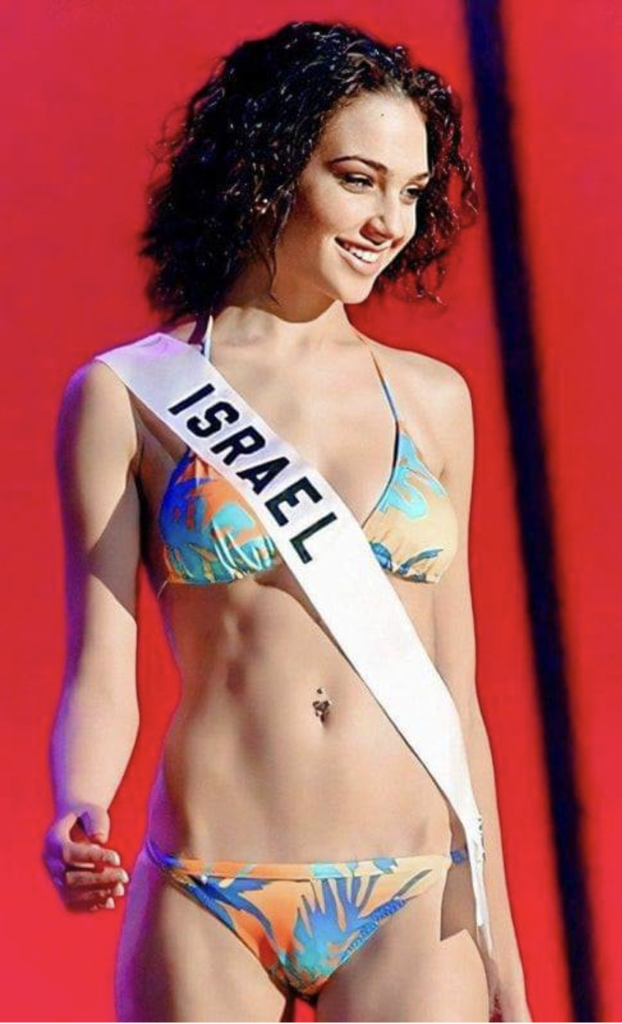 Gal Gadot demonstrated early potential in modeling, clinching the title of Miss Israel at the tender age of 18. Fresh off this triumph, she graced the Miss Universe stage in 2004, taking place in the exotic location of Ecuador. This began a flourishing modeling career that would span several years.
Gadot frequently became the highlight of their promotional campaigns when collaborating with various brands. Among her notable partnerships were with brands such as Captain Morgan, Miss Sixty, Huawei, Gucci, and Jaguar. Gadot's striking features also graced the pages of several esteemed magazines, including Cosmopolitan, Glamour, Bride Magazine, and FHM. She served as the primary model for the fashion powerhouse Castro. In 2020, she stepped into Jennifer Aniston's shoes as the spokesperson for Smartwater.
Acting Career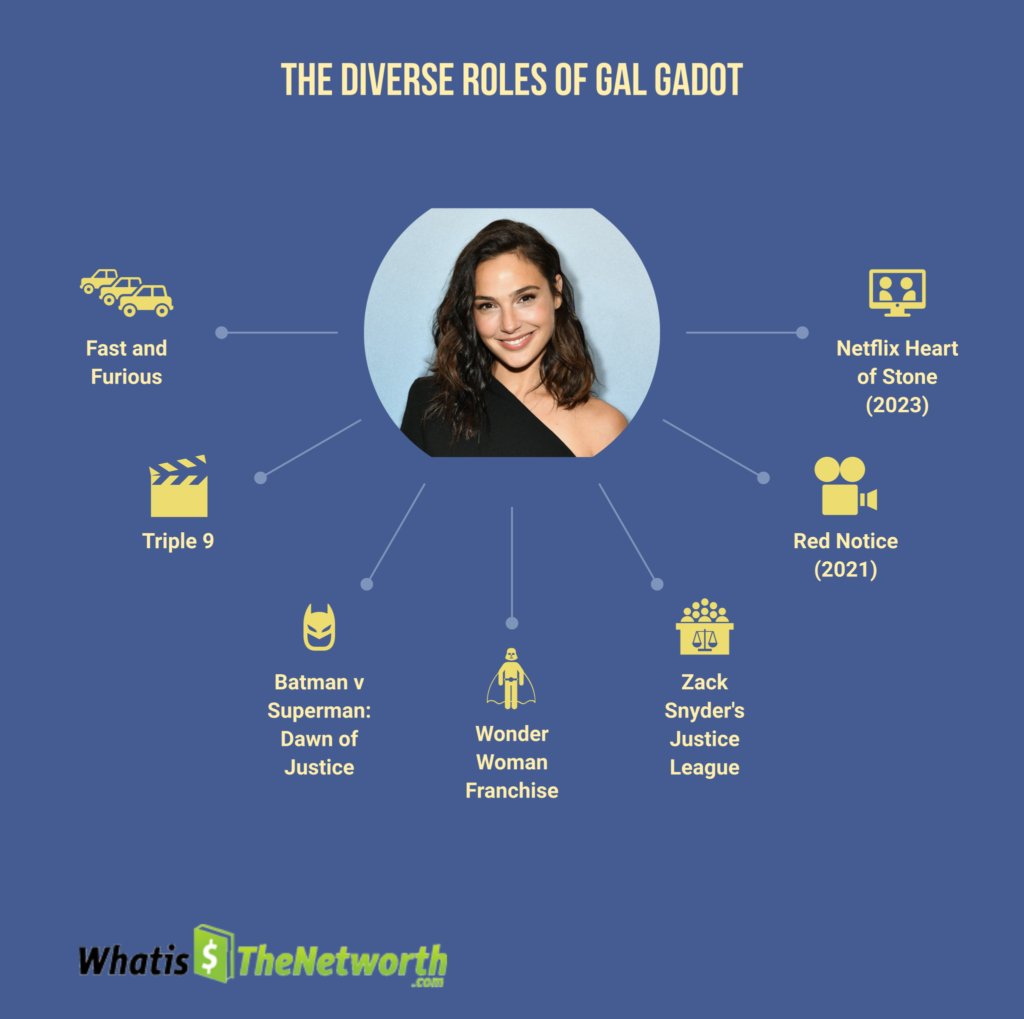 Gal Gadot's foray into acting began in her college years, following a series of successful modeling campaigns and pageants. Her love for performance was evident from her early interest in athletics and her aspiration to become a dance choreographer. Gadot's first acting credit was in the Israeli sitcom 'Shemesh,' where she appeared in a single episode in 1999. This was her only acting gig until 2007 when her career path veered toward the cinematic world.
🎞 Fast and Furious
Gal Gadot made significant strides in the entertainment industry in 2009 when she was cast as Gisele Yashar in the renowned "Fast & Furious" series. She had the opportunity to collaborate with renowned actors like Vin Diesel, Paul Walker, and Michelle Rodriguez in this role.
From a meager $85 million budget, the movie grossed an astounding $360 million. The next films saw Gadot reprise her role; she appeared in "Fast Five" in 2011 and "Fast & Furious 6" in 2013. The fact that both sequels were such movie office smashes contributed significantly to Gadot's increasing fame and income.
With a staggering $626 million worldwide, "Fast Five" introduced the series to the great Dwayne "The Rock" Johnson. But hold on tight, for "Fast & Furious 6" raised the bar significantly by earning an astounding $788.6 million! Despite Gadot's absence from Furious 7, her role had an influence in several deleted sequences that were later made available to fans.
🎞 Triple 9
After appearing in the Fast & Furious films, Gal Gadot ventured into new film genres by appearing in the 2016 criminal thriller "Triple 9." An all-star cast, including Chiwetel Ejiofor, Anthony Mackie, Casey Affleck, Woody Harrelson, and Kate Winslet, performed under John Hillcoat's direction.
Gadot played an investigator who assisted Ben Affleck deep into an Atlanta crime organization. Despite a stellar cast, "Triple 9" was not a commercial success at the movie office, grossing only $23 million worldwide against a $20 million budget. Although Gadot gave it her all in the role, audiences or reviewers did not receive the film well.
🎞 Batman v Superman: Dawn of Justice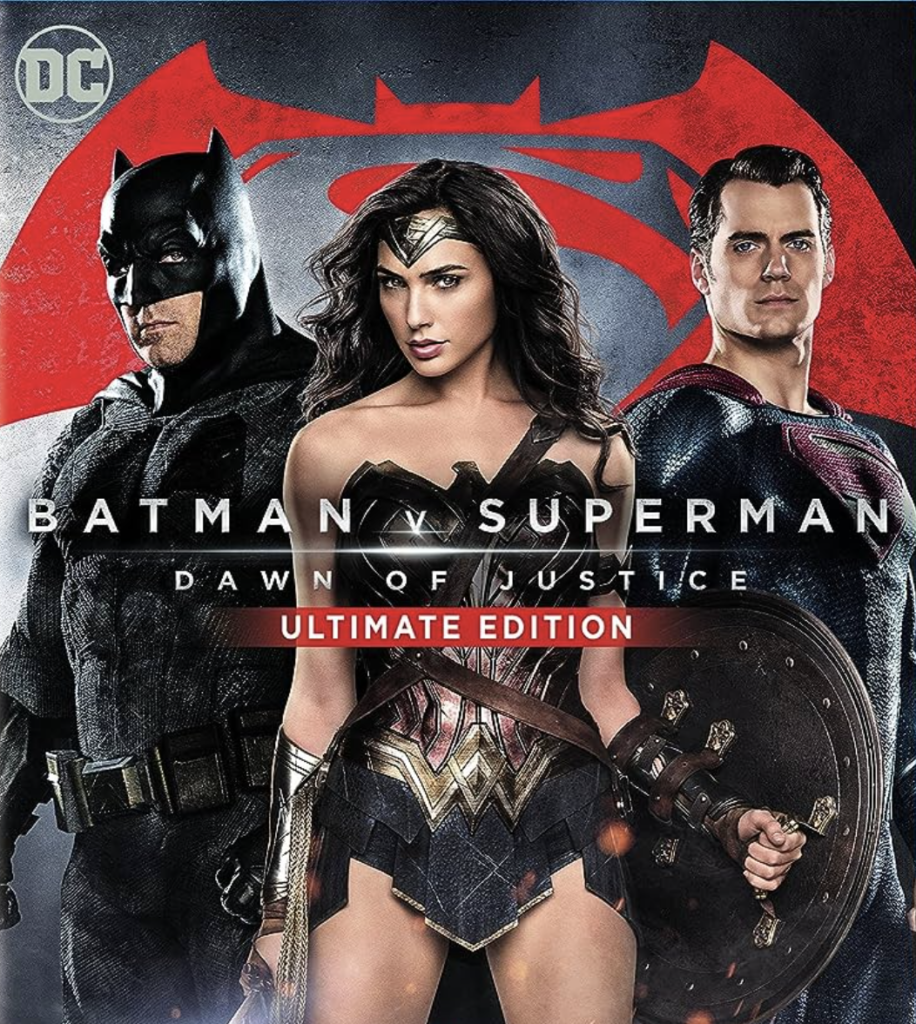 Gal Gadot's career saw an astonishing development in 2016 that drastically altered the landscape for her. It had a significant influence, almost like a turning point. And what about that? Additionally, it had a great impact on her own wealth. The price soared! During this unique year, she finally wore the fabled cape of Diana Prince, commonly known as "Wonder Woman," in the thrilling DC Comics Extended Universe.
Ben Affleck and Henry Cavill, two of Hollywood's best actors, co-star with her in Zack Snyder's epic movie Batman v Superman: Dawn of Justice, setting the scene. People were chatting and debating a lot after the movie. While some critics and fans thought it was fantastic, others had other thoughts.
It is difficult to dispute the film's phenomenal financial success, though, as it made an astounding $873 million worldwide, exceeding its $250 million budget. Despite the conflicting reviews, Gal Gadot's highest-grossing movie, Batman v Superman: Dawn of Justice, significantly increased her net worth.
🎞 Wonder Woman Franchise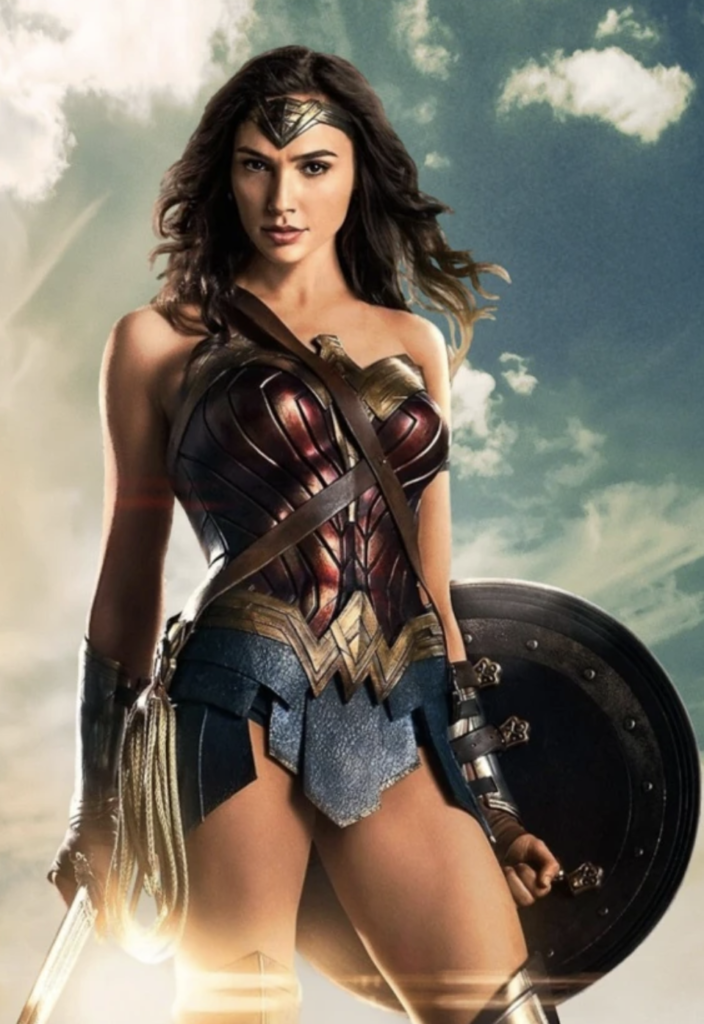 Gal Gadot made a triumphant comeback to the big screen in 2017 with Patty Jenkins' critically acclaimed Wonder Woman (2017), playing the legendary role of Diana Prince. Despite her meager $300,000 salary, the movie was a critical and audience favorite and a box office triumph. The picture, which had a $149 million production budget, ended up earning an astounding $822 million worldwide, ranking as Gadot's second-highest-grossing movie of all time.
Gadot returned to the character of Wonder Woman in Wonder Woman 1984 (2020) one of the first movies to air on HBO Max in the midst of the epidemic. Despite the possibility that pandemic circumstances had an impact on box office results, the $200 million picture nonetheless managed to gross over $169 million worldwide. The movie greatly increased Gal Gadot's net worth. Even if the exact numbers on how it affected HBO Max subscribers are yet unknown. According to reports, the actress received a stunning $10 million for her part in this DC Comics follow-up.
🎞 Zack Snyder's Justice League
In 2017, hot on the heels of the first Wonder Woman installment, Gal Gadot graced the big screen as Diana Prince once more in the ensemble superhero film, "Justice League." Despite a colossal production budget, reported to be around $300 million, the movie managed to pull in over $657 million globally. Gadot's paycheck for participating in the film remained a modest $300,000, as her contract was likely settled before the unexpected triumph of her standalone DC film.
Four years later, in 2021, fans were treated to "Zack Snyder's Justice League," a director's cut of the 2017 film. This version was starkly different, presenting a more gritty and violent narrative, complete with noticeably more explicit scenes. While originally destined for a streaming and home video release, the film eventually enjoyed a theatrical run. This unlikely twist was thanks to the persistence of filmmaker Kevin Smith, enabling fans to experience the director's vision on the big screen. The performance of these films further bolstered Gal Gadot's standing in the industry and her net worth.
🎞 Red Notice (2021)
In 2021, Gal Gadot starred in Netflix's big-budget blockbuster, "Red Notice," alongside Ryan Reynolds and Dwayne Johnson. This movie contributed significantly to her net worth as she reportedly received a substantial salary of $20 million. This was a noteworthy achievement for Gadot and the film industry, as it marked a commendable instance of gender pay equality.
All three leads — Gadot, Johnson, and Reynolds — were compensated equally. It draws attention to the ongoing conversation about gender parity in Hollywood. The prominence of "Red Notice" and its considerable budget of $160 million, including the generous salaries for the stars, further solidified Gadot's financial status and industry standing.
🎞 Netflix Heart of Stone (2023)
In her most recent project, Gal Gadot steps into the shoes of Rachel Stone, a rookie member of an elite team of MI6 agents in Netflix's "Heart of Stone." Eagerly learning the ropes, Rachel is surrounded by a diverse and skilled team. Among her peers is the affable Bailey, portrayed by Paul Ready, an ace driver and bachelor with an endearing love for his cherished marmalade cat.
The squad also includes the formidable Yang, played by Jing Lusi, a straight-talking, no-nonsense agent who willingly takes Rachel under her wing. Adding a touch of charm and sophistication to the team is the well-dressed, suave Parker, introduced to audiences by none other than Jamie Dornan. The dynamics of this team undoubtedly added fresh layers to Gadot's character. They will likely contribute to her ever-growing net worth.
Real Estate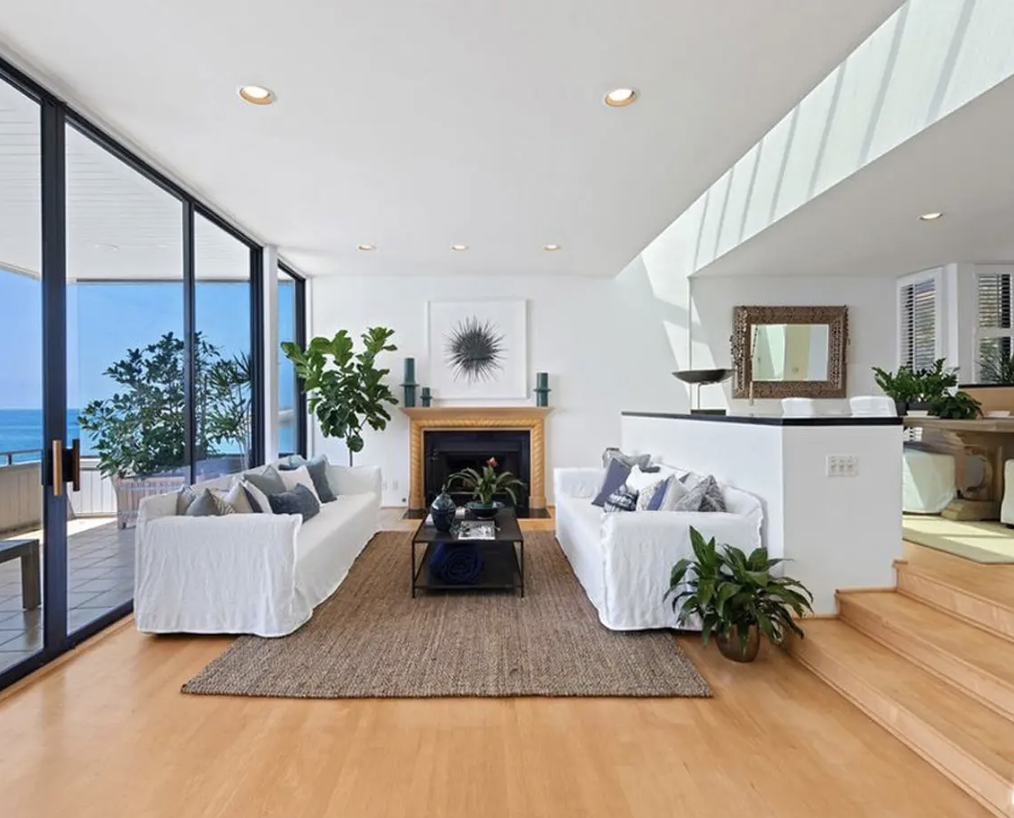 Gal Gadot's considerable net worth has allowed her to make spectacular real estate investments in addition to her successful acting career. She spent $5 million on a stunning oceanfront home in Malibu, California, which is one of her most memorable acquisitions. Interestingly, the house was constructed in 1984, giving it a touch of antique appeal.
One of Gadot's most valued possessions is a home in the renowned Hollywood Hills. Although information on this specific house is few, it is renowned for its prominent elevation and breathtaking views of the surroundings. It served as her home while she was busy shooting, further solidifying her reputation in the industry. Gadot's real estate holdings greatly boost her net worth and demonstrate her keen business sense in addition to her acting profession.
Endorsement Deals
Gal Gadot has also significantly bolstered her net worth through various endorsement deals and partnerships throughout her career. Revlon, in 2018, named Gadot as their Global Brand Ambassador as part of their campaign. It encourages women to express themselves freely. In another noteworthy association, Gadot was endorsed by the luxury brand Gucci in 2015, becoming the face of their Bamboo perfume.
Additionally, during the filming of Wonder Woman, Gadot partnered with athletic-wear giant Reebok. These high-profile brand endorsements and collaborations have boosted Gadot's visibility as a global icon and played a crucial role in amplifying her net worth.
Personal Life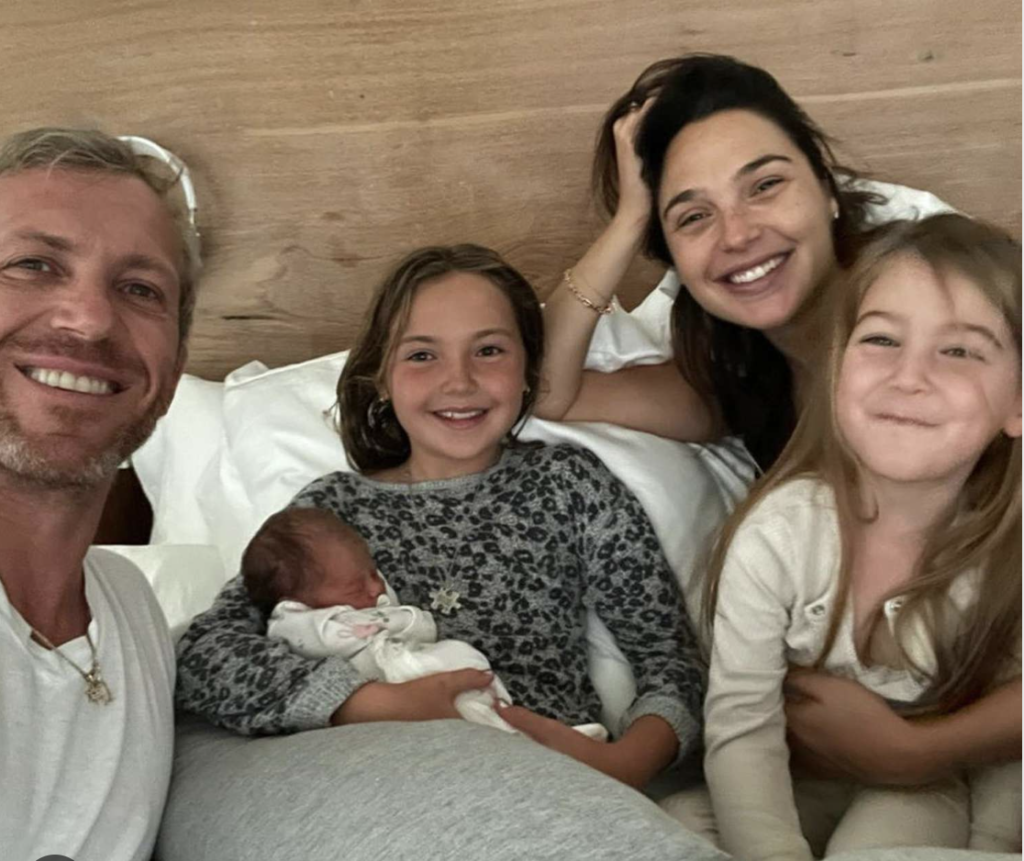 Gal Gadot's marriage to well-known Israeli businessman Yaron Varsano, which has lasted for many years. It has played a significant role in her personal life's abundance of happiness and love. Following two years of dating, they decided to be married. They had met at a party through common acquaintances. Even after 14 years of marriage, their relationship still inspires people everywhere.
When Alma, Maya, and Daniella, the couple's three children, were born, their happiness increased even more. The couple's first child, Alma, was born in 2011 after three years of marriage. Fascinatingly, Gadot was carrying Maya, their second child, as "Batman v Superman: Dawn of Justice," a box office smash, was being filmed. In March 2017, Maya entered the world. Daniella, who was born in 2021, is their newest addition. These achievements in Gadot's private life brought her great delight and gave her a better understanding of parenthood.
Awards and Recognition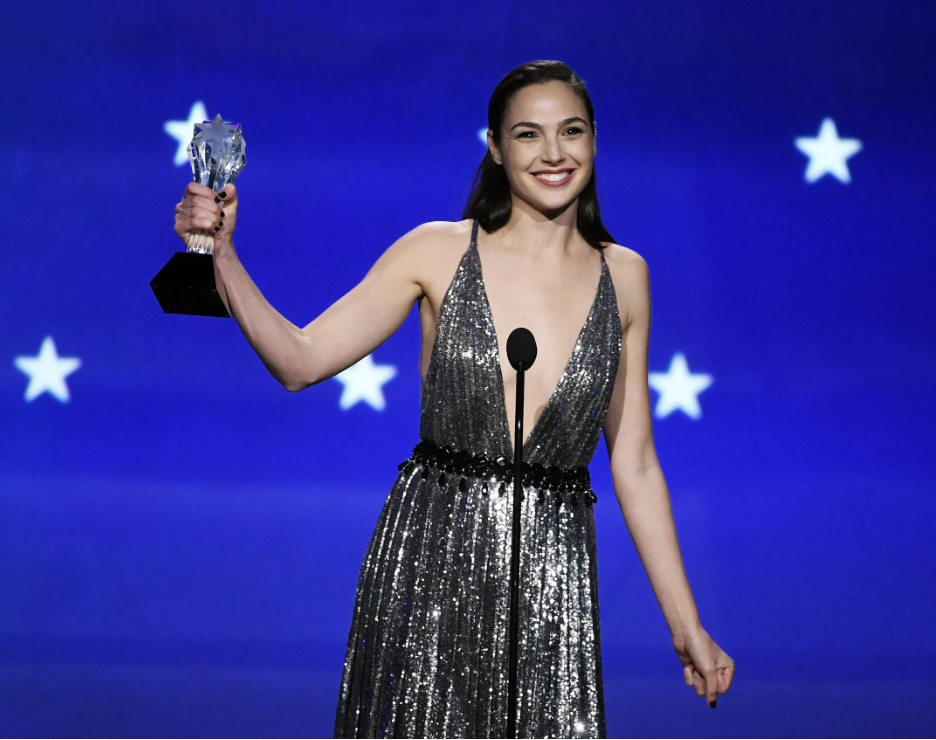 Gal Gadot has won several prestigious awards for her immersive performances throughout her brilliant career, which has captivated audiences worldwide.
She won the Best Fight Scene award at the 2018 MTV Movie + TV Awards for her breakout performance in "Wonder Woman." She received the Rising Star Award for the same role at the Palm Springs International Film Festival in the same year. Gal was also given the Critics Choice Award for her portrayals of Princess Diana and Wonder Woman, demonstrating her brilliance and commitment to her art.
The Alpha Pro Award for Best Actress in a Superhero Movie was given to Gadot in 2022, in part because of her repeat performance in "Jack Snyder's Justice League." Her mesmerizing "Wonder Woman" performance also helped her win the Jupiter Award for Best International Actress in 2018.
The Cape & Castle Awards, Women Film Critics Circle Awards, Series Em Cena Awards, Kids Choice Awards, USA, and Entretenews Awards are just a few of the various honors and accolades that Gal Gadot has received over her career. These honors considerably increase Gal Gadot's notoriety in the film business and testify to her outstanding acting abilities, which continue to increase her wealth.
Philanthropy
Gal Gadot's impressive net worth is a testament to her successful acting career and an enabler that allows her to give back to society generously. Known for her humility and kindness, Gadot actively participates in numerous philanthropic endeavors.
In 2020, Gadot graced the International Day of Persons with Disabilities event at the Dubai Expo, an initiative organized by the Better World Fund. Her presence contributed to raising awareness about disabilities and promoting inclusivity.
Gadot also attended a charity auction hosted by the Gala Awards Ceremony, which benefited Dubai Cares, a globally recognized philanthropic organization. While there are numerous other charity events Gadot has attended, details about them are somewhat limited. Yet, we know she is committed to causes that make a difference.
In 2017, Gadot took a stand for education by attending the N-Philanthropy Give Back Garden Party. In another notable act of kindness, she participated in a 187-mile charity challenge, winning approximately $18,000, which she graciously donated to a disabled girl.
Gadot's charitable works go beyond the spotlight, reflecting her genuine desire to help those in need. It's clear that her contributions to society extend far beyond her on-screen performances, further enhancing her net worth not just financially but morally and ethically, too.
Frequently Asked Questions
Q: What was Gal Gadot's profession before acting?
Before breaking into Hollywood, Gal Gadot was a model and won the title of Miss Israel in 2004. She also served two years as a combat instructor in the Israel Defense Forces.
Q: Does Gal Gadot do her own stunts?
While Gal Gadot performs some of her stunts, she also has stunt doubles for more dangerous or complex scenes.
Q: What languages does Gal Gadot speak?
Gal Gadot is multilingual. She speaks Hebrew, her native language, and English fluently.
Q: Has Gal Gadot done any voice acting?
Yes, Gal Gadot has done voice acting. She voiced the character Shank in the animated film "Ralph Breaks the Internet."
Conclusion
In all, it's clear that Gal Gadot's net worth is a reflection of not just her box-office success but also her savvy business pursuits, lucrative endorsements, and profound sense of social responsibility. It's not just about raking in the moolah but also about wielding it wisely. Gal is a shining example of that. She's Wonder Woman on and off the screen – saving the world, one blockbuster and charitable act at a time. So, to sum it up, Gal Gadot's net worth is truly a wonder, much like the lady herself.