Do you wonder, "What is the net worth of Tom Cruise?" Or "What financial heights has his stellar career reached?" "How did he amass such an impressive fortune?" Find all those answers here!
Star of blockbuster Hollywood films, Tom Cruise's career is as thrilling as his action scenes. Cruise's career is a tribute to his acting prowess and star power, from his 1980s roles that propelled him to fame to his global popularity today. This longevity in Hollywood's volatile industry has led to his financial success.
Let's find out how much this American actor is worth.
Early Life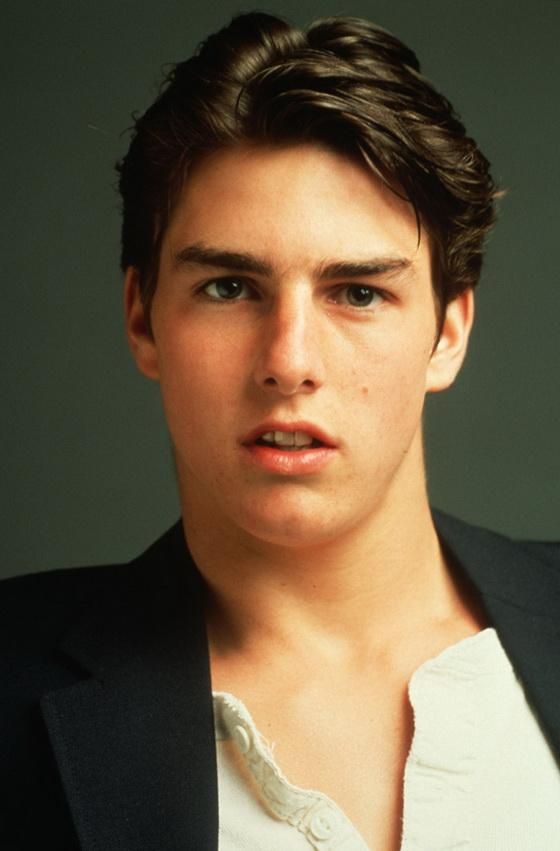 Thomas Cruise Mapother IV, better known as Tom Cruise, was born on July 3, 1962, in Syracuse, New York, hailing from a family with roots in electrical engineering and special education. An itinerant childhood saw him move frequently across the United States and briefly into Canada. The young Cruise, who would later recount tales of a challenging upbringing under an abusive father, attended an astounding 15 schools in 14 years. 
Contrary to what one might imagine, acting wasn't always the primary goal for Cruise. His initial ambitions were centered on sports, specifically wrestling until a knee injury redirected his path towards the drama club. His natural talent soon shone through, earning him the lead role in a school production of "Guys and Dolls." Despite this early success and praise for his performances, Cruise briefly contemplated a religious life at the St. Francis Seminary in Cincinnati. 
However, this stint ended prematurely due to disciplinary issues. Finally, graduating from Glen Ridge High School in New Jersey in 1980, Tom Cruise was on the cusp of a career that would soon make him one of the most recognizable faces in Hollywood.
Rise to Stardom
Upon graduating from high school, Tom Cruise relocated to the heart of the entertainment industry, New York City. Working as a busboy, he simultaneously sought after acting opportunities, casting his net between the Big Apple and Los Angeles. His acting debut came in 1981, landing a minor role in the film "Endless Love." That same year, he secured a supporting role in the military academy drama "Taps" alongside Timothy Hutton, a gig that boosted his earnings by $50,000.
Continuing his acting pursuits, Tom featured in 1983's "The Outsiders" and portrayed Woody in "Losin' It." His career took a surprise leap with his next film, "Risky Business," which turned out to be a breakout hit that placed him firmly on the Hollywood map.
A series of projects followed, allowing Tom to negotiate higher paychecks. Despite the commercial failure of the 1985 fantasy film "Legend," which only garnered $15.5 million against a $24 million budget, Tom's portrayal of Jack in this Ridley Scott film earned him a cool $500,000. Interestingly, despite its lackluster box office performance, the film later achieved cult status among fans.
Prolific Career in Hollywood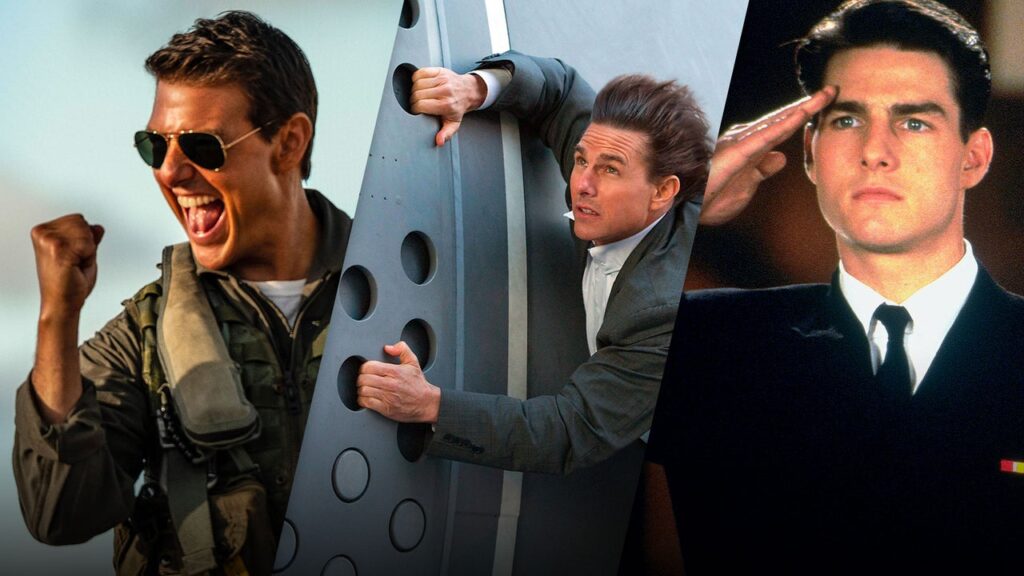 Tom Cruise's film career features a string of successful blockbusters that have significantly contributed to his net worth:
In 1986, Cruise's career trajectory took off with the release of the original "

Top Gun

," which raked in a remarkable $357 million worldwide.

His first venture as the lead character, Ethan Hunt, in the 1996 movie "

Mission: Impossible

" further boosted his status, earning an impressive $457 million worldwide.

The Mission: Impossible franchise has been a cash cow for Cruise. Notably, in 2012, he pocketed an estimated $75 million from "

Mission Impossible: Ghost Protocol

" and "

Jack Reacher

," according to Forbes.

The sixth film in the Mission: Impossible series, "

Mission: Impossible — Fallout

," launched in 2018, made a record-breaking $787 million in global ticket sales.

Cruise's financial success peak came in 2022 with "

Top Gun: Maverick

." Thanks to a first-dollar gross deal, where he earned 10% of the revenue from tickets and film rights. Cruise took home an estimated $100 million, inclusive of ticket sales, his salary, and a portion of streaming revenue.

The sequel to the Top Gun franchise, "

Top Gun: Maverick

," became the highest-earning movie of Cruise's career, racking up over $1 billion worldwide. It was even

nominated for Best Picture at the 2023 Academy Awards

. 
Wagner Productions
Venturing beyond acting, Tom Cruise delved into production, which significantly amplified his wealth. In 1993, he co-founded Cruise/Wagner Productions with Paula Wagner, and their films have since raked in an astonishing $3 billion globally. Their successful partnership with Paramount Pictures ended in 2006 following a ripple of controversy surrounding Cruise's public comments about psychiatry and antidepressants. Despite this setback, Cruise/Wagner Productions found alternative financing via hedge funds and support from Washington Redskins' founder, Dan Snyder.
In a move to rejuvenate the faltering United Artists studio, Cruise and Wagner were solicited in 2006. Though Wagner parted ways with United Artists in 2008, she and Cruise retain a 30% stake in the studio to this day. This entrepreneurial venture into production has played a significant role in Cruise's enormous net worth. It set him apart from his contemporarily successful peers in Hollywood.
How Does Tom Cruise Spend His Money?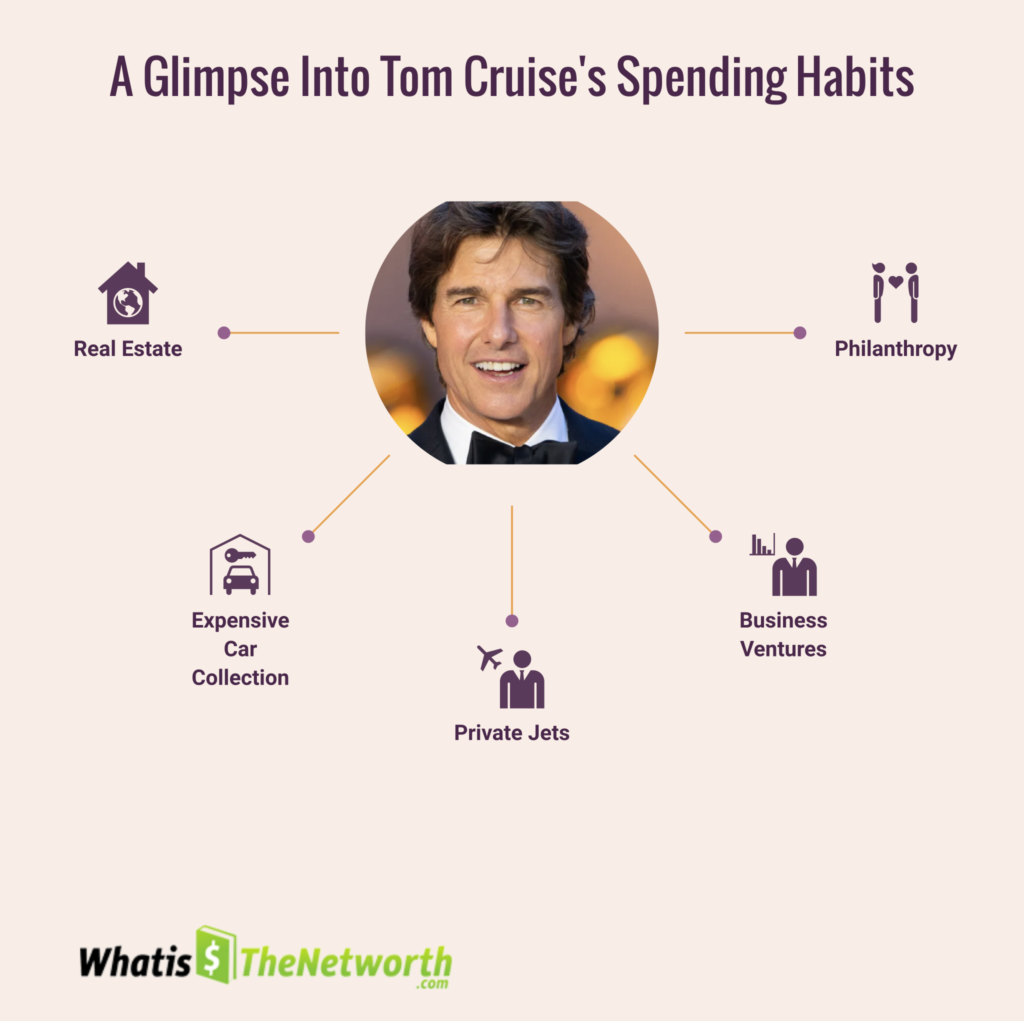 Tom Cruise isn't just known for his acting prowess and box-office hits. He's also recognized for his lavish lifestyle and how he spends his hard-earned wealth. From opulent real estate investments and luxurious cars to passionate commitments to aviation and philanthropy, Cruise's spending habits offer a glimpse into the lifestyle his monumental net worth affords. Let's check it out!
💸 Real Estate
In addition to his acclaimed Hollywood career, Tom Cruise's net worth is also influenced by his extensive real estate investments. Among his noteworthy properties was a sprawling 320-acre ranch set amidst the scenic landscapes of Telluride, Colorado. This majestic estate was reportedly sold for a staggering sum, close to $40 million. 
More recently, in 2017, Cruise expanded his real estate portfolio in Tampa, Florida, acquiring a luxurious penthouse and several condominiums at a cumulative cost exceeding $10 million. Another significant transaction involved a Beverly Hills property he formerly shared with Katie Holmes, his ex-wife. 
This opulent estate fetched an impressive price tag of approximately $38 million when it was sold off in 2016. The accumulated value of these real estate dealings significantly contributes to Cruise's overall net worth.
💸 Expensive Car Collection
Tom Cruise's affluence is not just limited to his movies, production ventures, and real estate earnings. His passion for exotic, vintage, and high-performance vehicles adds another facet to his accumulated wealth. His car collection is as impressive as his career, featuring an assortment of iconic automobiles. 
Among his prized possessions are a 1958 Chevrolet Corvette C1, a 1970 Chevrolet Chevelle SS, and a 2010 Saleen Mustang S281, each reflecting Cruise's diverse vehicle taste. Notably, Cruise's collection also boasts a high-speed 2005 Bugatti Veyron. 
Cruise famously drove this luxury car to a fan screening of "Mission: Impossible III" in Los Angeles. His car collection, as diverse and unique as his film roles, stands as another testament to his colossal net worth.
💸 Private Jets
Tom Cruise's attraction to the skies is abundantly evident in his sizable collection of private jets. Notably, his airborne acquisitions include a World War II-era P-51 Mustang fighter plane, a Challenger 300, a sophisticated HondaJet, and the grand Gulfstream IV G4, priced at a staggering $20 million. The Gulfstream, designed for luxury travel, accommodates 19 passengers. It's equipped with a Jacuzzi and a dedicated space for movie screenings.
Cruise's fascination with flying extends beyond mere ownership. The actor holds multiple pilot licenses and has been taking to the skies since 1994. This passion also shines through his penchant for performing daredevil stunts, from high-speed motorcycling to navigating his vintage fighter jet. Both his jet collection and his high-adrenaline pursuits in the sky significantly enhance the magnitude of his net worth.
💸 Business Ventures
Tom Cruise's fervor for aviation is not confined to his personal pursuits. It has indeed driven him to venture into numerous business investments. In the mid-90s, Cruise co-initiated a venture called the Aircraft Acquisition Company, a firm specializing in trading private jets. 
His business involvement also extends to supporting organizations like World Access for the Blind. This notable charity provides specialized training for visually impaired individuals, empowering them with the skills to navigate airplanes. 
Through ventures like these, Cruise has channeled his passion for aviation into avenues significantly contributing to his overall net worth.
💸 Philanthropy
Tom Cruise remains philanthropic despite his wealth. He has supported several charities over his career. These include the Children's Hospice & Palliative Care Coalition and Scientology's philanthropy. Cruise has also donated millions to the Red Cross and the Hollywood Education and Literacy Project, demonstrating his dedication to improving society.
Personal Life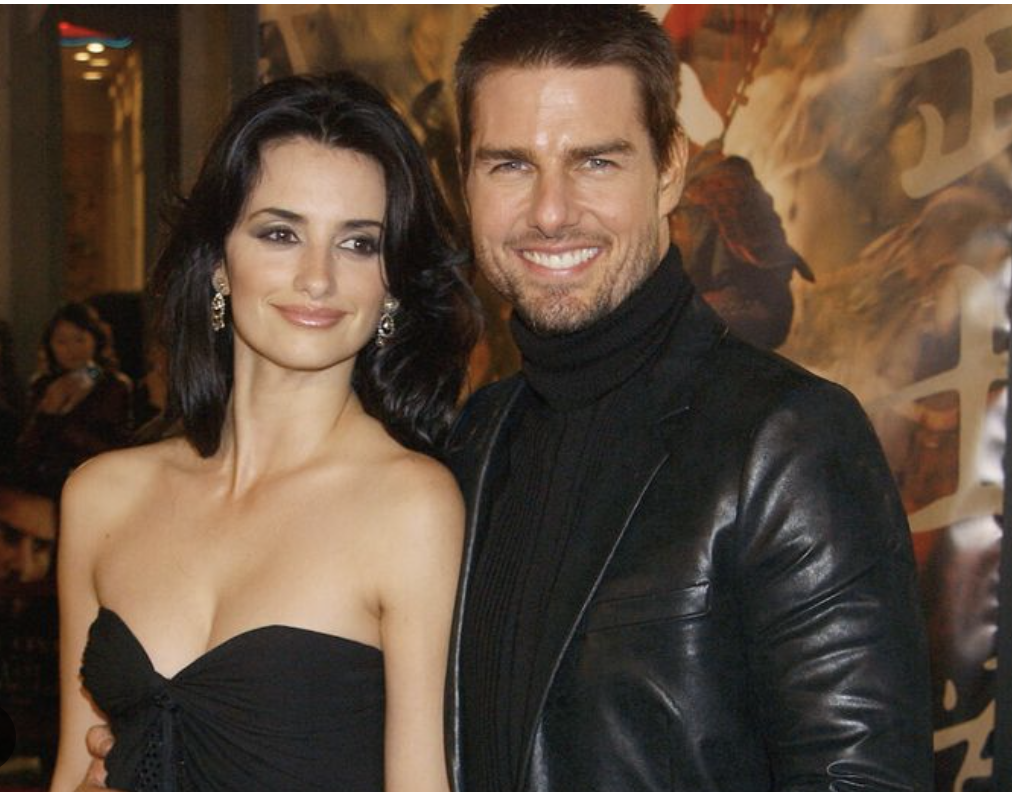 There have been a number of high-profile partnerships in Tom Cruise's personal life that have garnered a lot of attention. He initially got married in 1987 to actress Mimi Rogers, but the union only lasted a few years, dissolving in 1990. Cruise married Nicole Kidman in the same year. 
Before splitting up in 2001, the pair spent nearly ten years navigating life together. Soon later, in 2006, Cruise and Katie Holmes were married, but their union ended in 2012. Suri Cruise is the daughter of the couple. There were rumors that Cruise was seeing Hayley Atwell starting about 2020. However, the on-and-off romance, which supposedly ended in June 2022, was never formally confirmed. Sources claim that Cruise is not currently dating anyone.
Awards and Recognition
Tom Cruise's star-studded career spanning over three decades has seen a multitude of awards nominations and wins. His commendable performances in the films "Born on the Fourth of July," "Jerry Maguire," and "Magnolia" garnered him three Golden Globe Awards out of seven nominations. 
However, Cruise decided to return these trophies to the Hollywood Foreign Press Association in May 2021 due to controversies surrounding the association's lack of diversity and other issues. While the prestigious Academy Awards have eluded Cruise, with him being nominated thrice but not winning, his contributions to cinema have been recognized in other ways. 
A significant recognition came in 2005 when he was bestowed with The Stanley Kubrick Britannia Award for Excellence in Film at the BAFTA Los Angeles' Britannia Awards.
What Is The Net Worth Of Tom Cruise?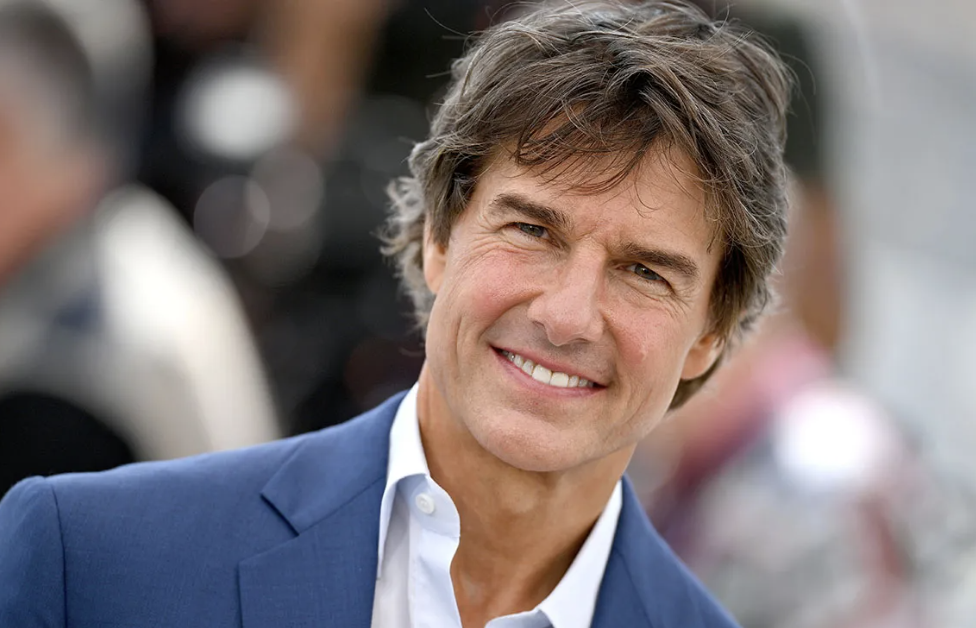 As of 2023, Tom Cruise boasts an astounding net worth of approximately $600 million. The staggering sum is primarily the result of his illustrious acting career. Still, his role as a producer, savvy real estate investor, and other business exploits have significantly bolstered this figure. 
Cruise's fans eagerly await his next appearance in "Mission: Impossible – Dead Reckoning Part Two," which was in the process of being filmed as of June 2023. With a tentative release slated for June 2024, whether the WGA and SAG strikes will impinge on the film's schedule remains uncertain. 
Cruise's roster of forthcoming projects doesn't end there; he is involved in various titles at different stages of development. One venture that has piqued public interest is a yet-to-be-named collaboration with Doug Liman, set to be the first Hollywood film shot in space. In its pre-production phase at present, the project anticipates a budget of around $200 million.
Frequently Asked Questions
Q: Who is Connor Cruise?
Connor Cruise is the adopted son of Tom Cruise and his then-wife, Nicole Kidman. Born in 1995, Connor has made a name for himself as a DJ and has also appeared in minor roles in a few films, including the 2008 movie, "Seven Pounds."
Q: How does Tom Cruise rank on Box Office Mojo?
Tom Cruise is considered one of the highest-grossing actors in the film industry, with his movies grossing billions worldwide. His impressive performances over the years have placed him high on Box Office Mojo's list of the most bankable Hollywood stars.
Q: Where does Tom Cruise stand among the world's richest actors?
With an estimated net worth of $600 million as of 2023, Tom Cruise is undoubtedly one of the world's richest actors. His wealth is primarily amassed from his successful acting and producing career and other business ventures and real estate investments.
Q: How do Tom Cruise and Henry Cavill compare as actors?
Both Tom Cruise and Henry Cavill are incredibly talented actors with highly successful careers. However, they are known for different roles. Cruise is famed for his roles in the "Mission: Impossible" series and "Vanilla Sky," among others. On the other hand, Cavill is best known for playing Superman in the DC Extended Universe and Geralt in Netflix's "The Witcher."
Q: Has Tom Cruise ever won a Best Actor award?
Yes, Tom Cruise has won multiple Best Actor awards throughout his illustrious career. He has won three Golden Globe Awards for Best Actor for his roles in "Born on the Fourth of July," "Jerry Maguire," and "Magnolia." However, the coveted Best Actor Oscar has thus far eluded him despite being nominated many times. His mother, Mary Lee, has been one of the biggest supporters of his acting career.
Final Words
What he has accomplished in his life and profession is quite remarkable. Aside from his remarkable career in the entertainment industry, this man has also distinguished himself through his many entrepreneurial and charitable endeavors. Cruise's net worth of $600 million exemplifies what can be accomplished through dedication, tenacity, and enthusiasm. 
As a fan of the actor, producer, and business mogul, I can't wait to watch his future endeavors. Will his upcoming movie be a commercial success? Will the lives of many people still be changed by his charitable work? Nothing but time shall tell. Tom Cruise's story is fascinating thus far, and it's only getting better from here.