Ever wondered how much the queen of pop, Lady Gaga net worth?She is known for her eccentric style, groundbreaking music; and extraordinary performances, Lady Gaga's net worth is a testament to her enduring talent and relentless work ethic. As of today, Lady Gaga's net worth is an astonishing $350 million; but how did she accumulate such wealth? Let's dive a little deeper.
Lady Gaga has had an outstanding career in the entertainment field. With a long list of top-charting records under her credit, notably "Born This Way," and "Chromatica," Gaga has made a name for herself among some of the most important figures in contemporary music. Gaga, however, is a star in more than just music; her work as an actress also makes a sizable contribution to her wealth. Gaga demonstrated her acting prowess in "A Star Is Born," garnering praise from critics and adding another sizable source of income to her career.
If you're a fan of her music and interested to know more about Lady Gaga's net worth, then you're in luck because we've got more interesting details. Apart from her music and acting career; Gaga has multiple business ventures that generate considerable income, which will be discussed in the next sections. So, read on.
Lady Gaga's Music Career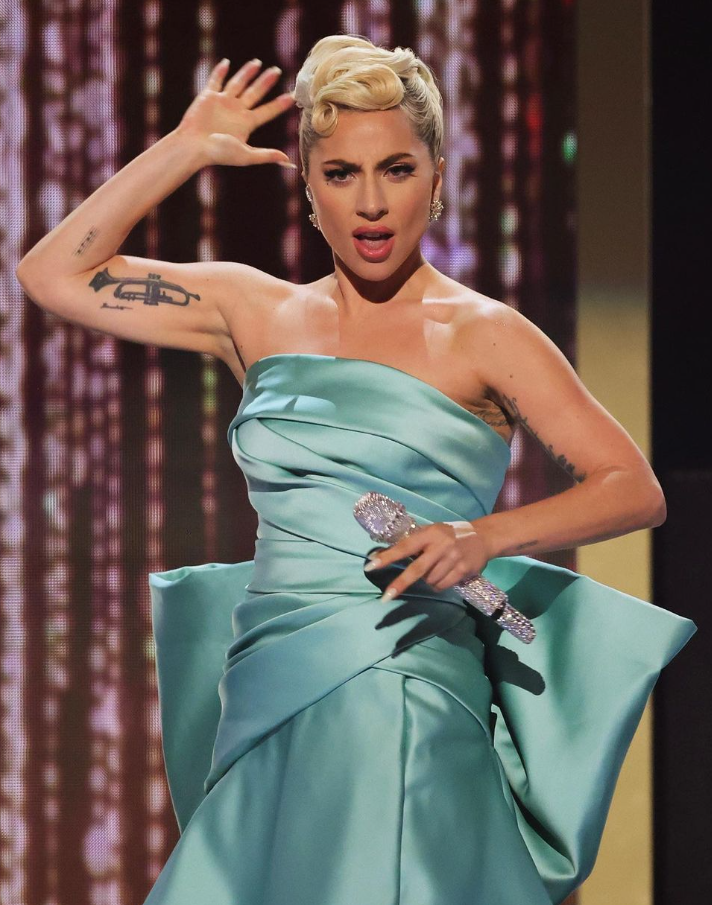 Lady Gaga, born Stefani Joanne Angelina Germanotta, began her musical journey in the bustling city of New York. She was passionate about music from a young age and was among the few students to gain early admission to the prestigious Tisch School of the Arts at New York University. However, she dropped out after two years to fully immerse herself in her music career.
Her early days were not without struggle. Despite facing numerous rejections, Lady Gaga persevered. Her breakthrough came when she collaborated with music producer Rob Fusari. Their partnership led to her signing a contract with Def Jam Recordings in 2006. Although this contract was short-lived, it was a stepping stone for Gaga, who continued to perform at clubs, create music, and write songs for other artists.
Climbing the Charts: Major Albums and Hits
Gaga's debut album, "The Fame," released in 2008, catapulted her to stardom. Hit singles like "Just Dance" and "Poker Face" topped the Billboard Hot 100, and the album itself was a commercial success, selling over 15 million copies worldwide.
In 2011, she released her second album, "Born This Way," which sold over one million copies in its first week. The title track became an anthem for the LGBTQ+ community and solidified Gaga's position as a pop culture icon. Other major hits include "Bad Romance," "Alejandro," "Telephone," and more recently, "Shallow."
Reaping the Rewards: Achievements and Awards in the Music Industry
Lady Gaga's distinctive style and groundbreaking music have earned her numerous awards and accolades. She has won 12 Grammy Awards, including Best Dance Recording for "Poker Face" and Best Pop Vocal Album for "The Fame" and "A Star Is Born."
Her song "Shallow," a duet with Bradley Cooper for the movie "A Star Is Born," won both the Academy Award and the Golden Globe for Best Original Song in 2019. In 2020, her album "Chromatica" debuted at number one on the Billboard 200, and its hit single "Rain On Me," featuring Ariana Grande, won the Grammy for Best Pop Duo/Group Performance.
Lady Gaga Acting Career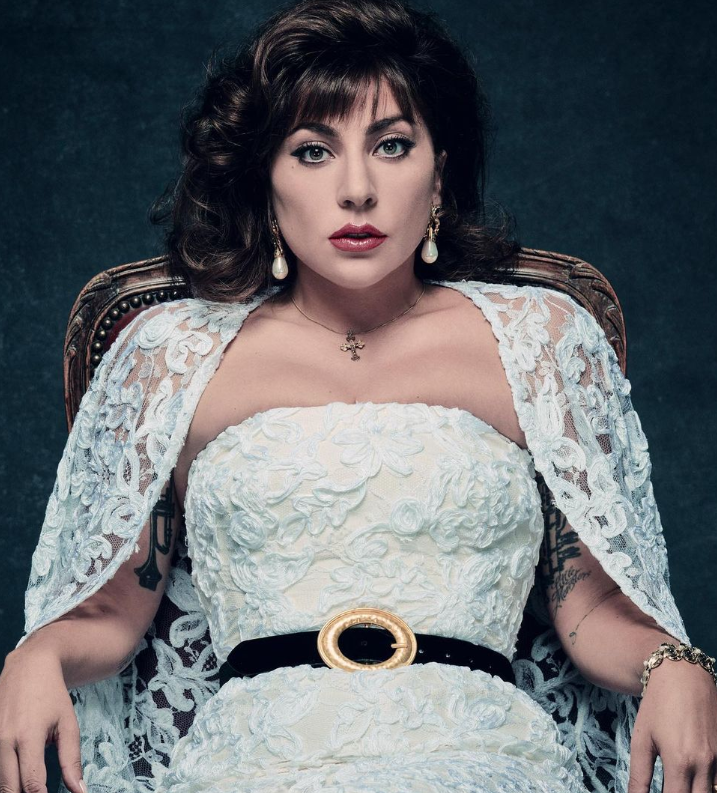 Lady Gaga, known worldwide for her music, has also made significant strides in acting. With her unique talent and versatility, she has effortlessly transitioned from the music stage to the silver screen; delivering performances as captivating as her songs.
➔From Music to Acting
Gaga's transition to acting was a natural progression of her artistic journey. She first showcased her acting skills in Robert Rodriguez's 2013 film "Machete Kills," followed by a brief role in "Sin City: A Dame to Kill For" in 2014. These roles hinted at her potential and paved the way for more substantial roles in the future.
➔Breakthrough in Acting
Her breakthrough role came in 2018 when she starred opposite Bradley Cooper in the critically acclaimed film "A Star Is Born." She played the character of Ally; a struggling artist discovered by a seasoned musician. Her performance was praised for its authenticity and emotional depth, and the film's success marked a new high in Gaga's acting career.
➔The Countess: American Horror Story
Before her success in "A Star Is Born," Gaga had already made a mark on television with her role in the series "American Horror Story: Hotel." Playing the character of The Countess, Gaga's performance was both chilling and captivating, earning her a Golden Globe Award.
➔Other Noteworthy Roles
Apart from these roles, Gaga has also appeared in other projects, further showcasing her range as an actress. In 2020, she joined the cast of Ridley Scott's "House of Gucci," playing the role of Patrizia Reggiani. Her performance is highly anticipated, demonstrating her continuous evolution as an actress.
➔Awards and Recognition in Acting
Gaga's performances have not only won her fans but also critical acclaim. Her role in "A Star Is Born" earned her an Academy Award nomination for Best Actress; a remarkable achievement for someone primarily known as a pop star. She won the Golden Globe for Best Actress; Miniseries or Television Film for her role in "American Horror Story: Hotel," further cementing her status as a respected actress.
From pop stages to film sets, Lady Gaga's journey is a testament to her talent and versatility. Whether through her music or acting; she continues to captivate audiences worldwide, leaving an indelible mark on the entertainment industry.
Lady Gaga Net Worth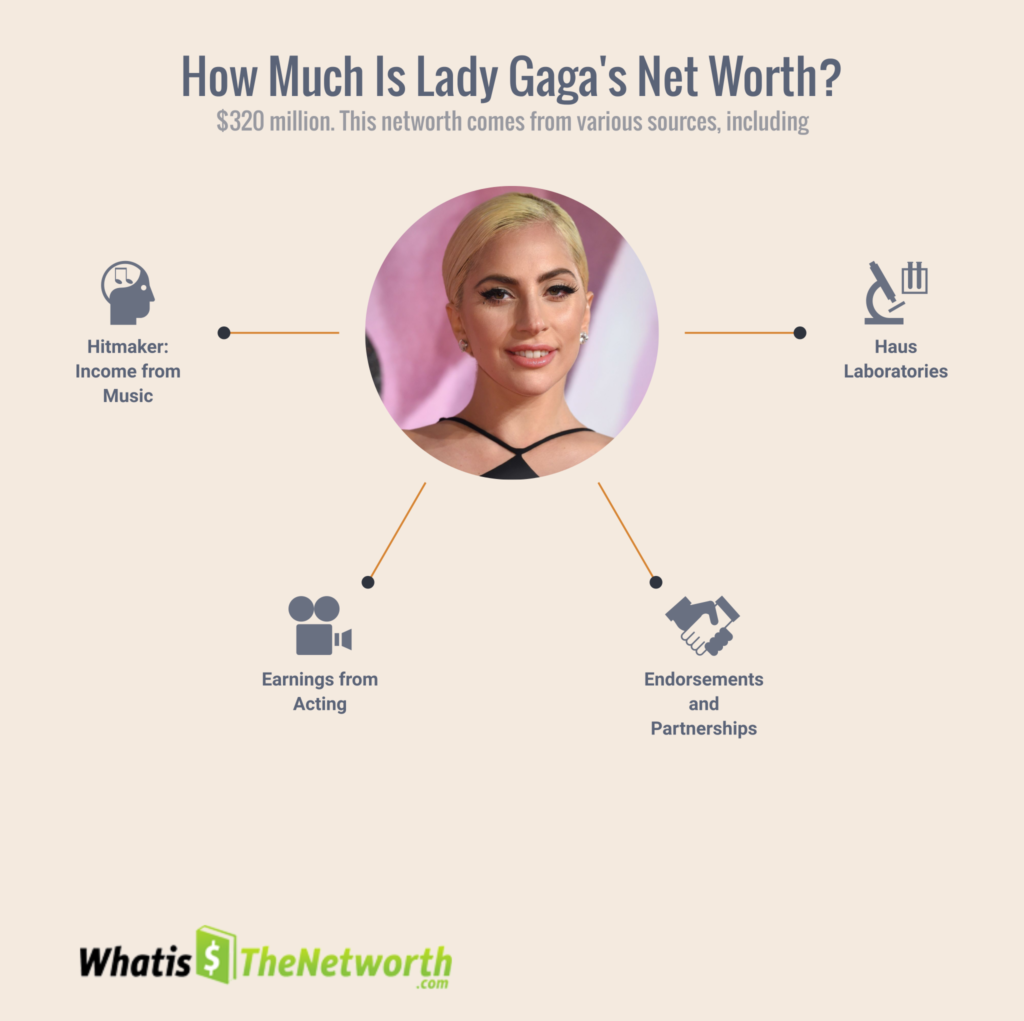 Lady Gaga, a multi-talented artist known for her music and acting, has amassed a significant net worth through her successful career. Her flamboyant style, catchy pop hits; and memorable acting roles have made her a global icon, earning her fame and substantial wealth.
As mentioned; Lady Gaga's estimated net worth is around $320 million. This networth comes from various sources, including:
✔️Hitmaker: Income from Music
A significant portion of Gaga's wealth comes from her successful music career. She has made a fortune with multiple chart-topping albums and singles from record sales, digital downloads, and streaming platforms. Additionally, her concert tours are often sold out; contributing significantly to her income. For example, her "Born This Way Ball" tour reportedly grossed over $382 million.
✔️Earnings from Acting
Gaga's transition to acting has also proven to be lucrative. Her performances in films and TV shows have garnered critical acclaim and added to her wealth. For instance, her role in "A Star Is Born" reportedly earned her a substantial paycheck.
✔️Endorsements and Partnerships
Lady Gaga's global popularity has made her a sought-after brand ambassador. She has endorsed several high-profile brands; including Versace, Tiffany & Co., and Polaroid. These endorsement deals have significantly boosted her income.
✔️Haus Laboratories
In addition to music and acting, Gaga has ventured into the beauty industry with her makeup line, Haus Laboratories. Launched in 2019, the brand mirrors Gaga's bold and unique style and adds another income stream to her portfolio.
These are just a few examples of how Lady Gaga has built her impressive net worth. Her talent, hard work, and business savvy have made her one of the most influential and successful artists in the world.
Charitable Donations and Philanthropy
Lady Gaga, beyond her fame and fortune, is also a renowned philanthropist. Her charitable endeavors are as diverse as her talents, ranging from mental health advocacy to disaster relief. Here's a closer look at some of Gaga's significant philanthropic efforts over the years.
☑Born This Way Foundation: Empowering Youth
In 2012, Lady Gaga co-founded the Born This Way Foundation with her mother, Cynthia Germanotta. The foundation empowers youth, promotes mental health awareness, and fosters a more compassionate society. Through various programs and initiatives, it seeks to provide young people with the resources they need to create positive change in their communities.
☑Mental Health Advocacy: A Voice for the Voiceless
Gaga has been open about her struggles with mental health, using her platform to raise awareness and advocate for better mental health resources. In partnership with Global Citizen; she organized "One World: Together At Home," a virtual concert that raised over $127 million for COVID-19 relief and mental health causes.
☑Disaster Relief: Lending a Hand in Times of Need
Gaga has been known to step up and lend a hand when natural disasters strike. Whether donating $1 million to relief efforts after Hurricane Sandy or pledging half a million dollars to wildfire relief efforts in California; Gaga's generosity shines through in times of crisis.
☑LGBTQ+ Rights: Championing Equality
As a proud member of the LGBTQ+ community, Gaga has consistently advocated for LGBTQ+ rights. She has supported various LGBTQ+ organizations and used her influence to speak out against discriminatory legislation. In 2009, she donated proceeds from her "Fame Kills" tour to the charity Stonewall in support of the fight for equality.
☑Global Health: Partnering with UNICEF
Lady Gaga has partnered with global organizations like UNICEF to tackle global health issues. In 2020, she helped raise $35 million to support the World Health Organization's COVID-19 Solidarity Response Fund, demonstrating her commitment to global health and well-being.
Lady Gaga's philanthropic efforts underscore her dedication to making the world a better place. Regardless of her celebrity status, she remains committed to using her platform to bring about positive change; proving that she is not only a star on the stage but also a star in the realm of philanthropy.
Real Estate and Other Ventures
Lady Gaga's portfolio is as diverse and impressive as her musical repertoire. Let's look at some of the key properties and projects she's invested in over the years.
■Malibu Mansion
One of Gaga's most notable real estate purchases is her $23 million mansion in Malibu, California. The sprawling estate spans six acres and boasts a saltwater pool, wine cellar, home theater; and even a two-lane bowling alley. The property also includes a stable and riding area, reflecting Gaga's love for horses.
■New York Penthouse
In addition to her West Coast abode, Gaga owns a $22 million penthouse in Manhattan. The luxurious duplex offers stunning views of Central Park and features a grand piano-shaped swimming pool. It serves as an urban retreat for Gaga in her hometown of New York City.
■Joanne Trattoria
Gaga has also dabbled in the restaurant business. She co-owns Joanne Trattoria, an Italian restaurant located on New York's Upper West Side, with her father, Joe Germanotta. The restaurant, named after Gaga's late aunt, offers a menu filled with family recipes, adding a personal touch to the dining experience.
■Wine Venture: Grigio Girls
Drawing inspiration from her song "Grigio Girls," Gaga filed for a trademark to launch her line of wines in 2017. While the venture hasn't officially taken off yet, it's another example of Gaga's entrepreneurial spirit and ability to turn her creative passions into business opportunities.
Lady Gaga's real estate and other ventures reflect her multifaceted personality and interests. Whether investing in luxurious homes or launching her own beauty line, Gaga continues to expand her empire, proving that she's not just a pop star but also a shrewd businesswoman.
Controversies Surrounding Lady Gaga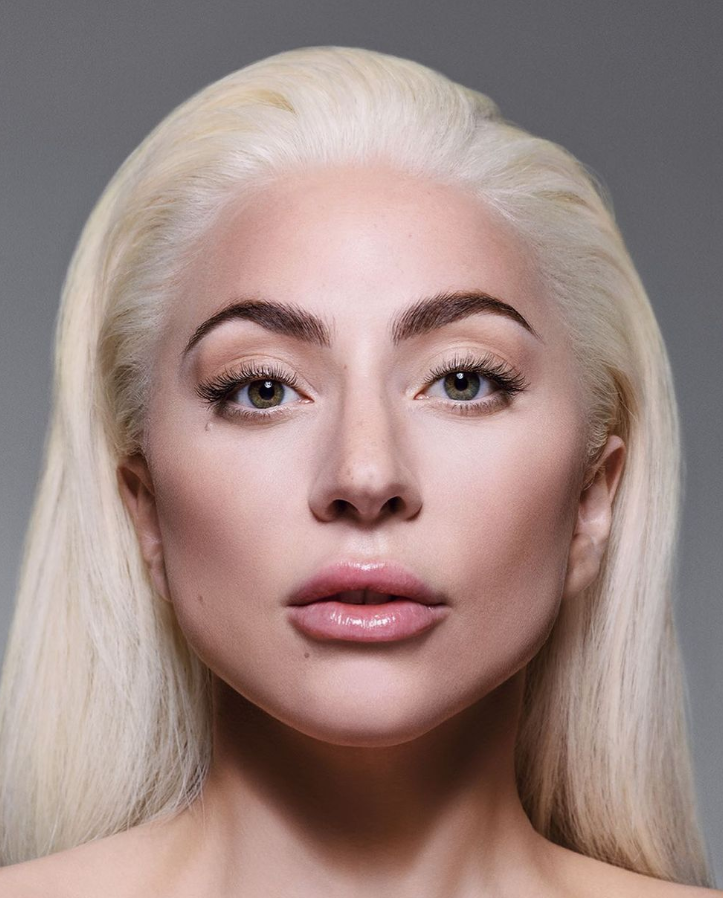 Like many celebrities, Lady Gaga has had her fair share of controversies. Her bold persona and unconventional artistic choices often attract as much criticism as they do praise. Here are some of the most notable controversies surrounding Gaga throughout her career.
❕Artistic Originality: Accusations of Copying
One of the earliest controversies in Gaga's career was the accusation she copied from other artists. Critics and fans have drawn comparisons between Gaga's work and that of pop icon Madonna, particularly pointing out similarities between Gaga's "Born This Way" and Madonna's "Express Yourself." Despite these accusations, Gaga maintains that any similarities are coincidental and greatly respects Madonna's work.
❕Religious Imagery: Stirring Up Controversy
Gaga's use of religious imagery in her music videos and performances has often sparked controversy. For instance, the music video for "Judas" features Gaga as Mary Magdalene, which drew criticism from religious groups. Despite the backlash, Gaga defended her creative choices, asserting that she intended to explore faith and betrayal, not to provoke or offend.
❕Outlandish Fashion: The Meat Dress
Perhaps one of Gaga's most infamous controversies is her meat dress, which she wore to the 2010 MTV Video Music Awards. Animal rights activists, including PETA, criticized the outfit, calling it disrespectful to animals. Gaga later explained that the dress was a statement against the military's "don't ask, don't tell" policy, not intending to insult anyone.
❕Body Image: Weight Criticism
Gaga has faced criticism over her weight on multiple occasions. In 2012, she gained weight due to a medical condition, leading to harsh comments from the media. Gaga responded by launching a body positivity campaign, encouraging her fans to embrace their bodies regardless of societal standards.
❕Relationships: Love and Heartbreak
Gaga's romantic life has had its share of ups and downs. She was engaged to actor Taylor Kinney for five years before they split in 2016. Later, she was briefly engaged to talent agent Christian Carino. Despite these heartbreaks, Gaga maintains a positive outlook on love. She has been linked to entrepreneur Michael Polansky in recent years, and the two appear to be going strong.
❕R. Kelly Collaboration: Guilty by Association
In 2013, Gaga collaborated with R. Kelly on the song "Do What U Want." However, after allegations of sexual misconduct against Kelly surfaced, Gaga faced backlash for working with him. She later apologized and removed the song from streaming platforms, expressing solidarity with Kelly's victims.
Despite these controversies, Lady Gaga pushes boundaries and challenges societal norms.
Frequently Asked Questions
Is Lady Gaga one of the highest-paid musicians in the world?
Yes, Lady Gaga is indeed one of the highest-paid musicians in the world. According to Forbes, her estimated earnings put her among the top earners in the music industry. In 2023 alone, she reportedly earned around $75 million, making her the highest-paid singer of the year.
What is Lady Gaga's net worth compared to other pop stars?
Lady Gaga's net worth is staggering compared to many other pop stars. As of 2023, her net worth is an estimated $500 million. This high figure places her among the wealthiest musicians globally, surpassing many of her contemporaries. For context, many successful pop stars typically have net worths ranging from $200 million to $300 million.
How much does Lady Gaga earn from streaming platforms like Spotify and YouTube?
Exact figures for earnings from streaming platforms like Spotify and YouTube can be tricky to pinpoint due to varying royalty rates and other factors. However, considering Lady Gaga's massive popularity and the billions of streams her songs have amassed, it's safe to say that she earns a significant amount from these platforms. Top artists like Gaga can earn anywhere from $0.003 to $0.005 per stream on Spotify, which can add up to millions of dollars given her extensive catalog and large fan base.
Are there any upcoming projects that could impact Lady Gaga's net worth in the near future?
While specific details about Lady Gaga's future projects aren't always publicly available, it's well-known that she continually works on new music, tours, and even acting roles. Each of these ventures has the potential to increase her net worth significantly. For example, a global tour can easily generate millions of dollars in revenue. Similarly, if she releases new music or stars in a successful film. Lady Gaga's earnings from sales, streams, and royalties could be considerably boosted.
Final Words
Learning about Lady Gaga's net worth has been eye-opening. As someone who is not very familiar with the entertainment industry, I had no idea just how much money could be made through music and concerts. But seeing that Lady Gaga's net worth is over $350 million, I am amazed at the level of success and hard work required to achieve that kind of wealth.
It makes me think about how we all have different passions and talents that can lead to incredible accomplishments when pursued with dedication and perseverance. Lady Gaga's story reminds us that it's never too late to chase your dreams and that success is possible if we are willing to work for it. Check out how much is lil scrappy worth.