Kodak Black, an American rapper and songwriter has been active since 2009. But it wasn't until 2014 that he experienced mainstream success with his single "No Flockin." Considering he became one of the most talked about rappers in the modern era, many are wondering: how much money does Kodak Black have?
After releasing his debut album, "Painting Pictures," in 2017, Kodak Black rose even more. But despite his success, Kodak Black never grew his fortunes far due to his run-ins with the law. Hence, in 2023, conservative estimates show his net worth around $2 million.
But some estimate Kodak Black's net worth to be less than $1 million. Either way, Black managed to become one of the wealthiest rappers today.
This post showcases how the young rapper reached such wealth and fame — and how he almost lost it all.
---
An Overview
Born on June 11, 1997, Dieuson Octave, later known as Bill Kahan Kapri, is a Haitian-American rapper under the stage name "Kodak Black." He grew up in Pompano Beach, starting his music career at the young age of 12.
Despite his early start, it wasn't until 2013 that Kodak Black released his debut mixtape. It was a local hit around Miami, Florida, prompting him to release two more in the succeeding years. And though he had local success, Kodak Black never went viral outside his hometown.
Thanks to Canadian rapper Drake dancing to one of his singles, Kodak Black finally caught his big break. The viral video exposed Black to Drake's millions of followers and the rest of the world — marking the beginning of Kodak Black's successful career.
Kodak Black landed a record deal with Atlantic Records, releasing several mixtapes and albums.
---
Early Life
Dieuson Octave, or Bill Kahan Kapri, famously known as Kodak Black, was born and raised in Florida.
Kapri's mom raised him alone, with the young boy growing up in a public housing project named "Golden Acres." The young Kodak Black began his craft in elementary school, rapping for his close friends. And after school, sources say that Kapri worked in a local trap house, gaining credibility for his music and reputation in the rap scene.
Aside from that, Kapri stated he bought a dictionary and a thesaurus to grow his vocabulary in high school. And this helped him in his future rapping and songwriting.
During his school days, Kapri became famous for his poor behavior. In elementary, the young rapper earned a reputation for being a "brawler." And it wasn't long until Kapri joined a little crew that would break into local homes. Because of this, he got expelled in 5th grade.
But that didn't stop Kapri from joining a rap group named "Brutal Youngnz" when he was 12. He began performing as "J-Black," eventually leaving the crew for "The Kolyons." And though Kapri never attended high school during his youth, the rapper finished his education in 2014 — earning his high school diploma.
---
Kodak Black's Career
Kodak Black kickstarted his music career very early, joining the rap scene at 12 years old. He started with the rap crew named "Brutal Youngnz," at the start, but later transferred to "The Kolyons."
But it wasn't until Kodak Black's first mixtape, "Project Baby," he received attention. It achieved local success in Florida, with nightclubs playing Kodak Black's tracks. Yet it wasn't long until Black followed up his initial hit with two more mixtapes. These received decent success but not enough to boost his clout in the mainstream.
Black only got his huge breakthrough when Canadian rapper, Drake, shared a video of him dancing to the young rapper's single titled "Skrt" in 2015. It went viral, bringing Kodak Black's name to light in front of Drake's colossal fan base — and the rest of the world.
After Drake's viral video, Black's fame and name spread throughout the worldwide hip-hop scene. And it wasn't long until Atlantic Records signed Kodak Black into their label. Black was fast to capitalize on his new-found fame shortly after releasing his 4th mixtape, "Lil B.I.G Pac."
It was Black's first mixtape to reach the Billboard music charts. His single "Tunnel Vision" topped several US charts, debuting 27th and 6th on the Billboard Hot 100.
After one hit after another, Kodak Black became one of the most successful new generations of rappers. And many respect his unique rap style, allowing him to get a string of successful projects.
Today, Kodak Black continues to release music under Atlantic Records. And this has become his primary income source, earning him millions yearly. But as successful as his album sales are, Black makes money from touring, where in 2019, he earned over $15 million.
---
Personal Life
Despite his busy work life and issues with the law, Kodak Black had the time to court a lady named "Cuban Doll." She and Black got into a relationship in 2021. After his short time behind bars, Black appeared on social media with a thinner figure and a new hairdo. And the day after he got released from prison, Black appeared before the public eyes with his lawyer.
Recently, the "No Flockin" star shared that he will cover the college tuition fees for the kids of deceased FBI agents Daniel Alfin and Laura Schwartzenberger. These two died in the line of duty during a 2022 Super Bowl party.
Aside from that, Kodak Black paid it forward to his neighboring Floridians by donating $12,5000 worth of air conditioners to locals in Pompano Beach. And the rapper even went door to door, giving each home included in the project air conditioners.
Black said he does it for the projects during a video covering the event. And he added that the locals rely on scarce cash to survive, saying he got them air conditioners.
But Kodak Black's personal life isn't all about charities and donations, as he had several controversies thrown at him. He was sentenced to two years in jail three years ago after being convicted on federal weapons charges. Black gave false information to a firearms dealer when buying weapons a year before.
Moreover, law enforcement officers discovered two weapons at a crime scene bought by Kodak Black using fabricated information. And the rapper was set to do jail time until November 2022, but it got dropped as he got a pardon from former US president Donald Trump.
---
How Much Money Does Kodak Black Have? (Kodak Black Net Worth 2023)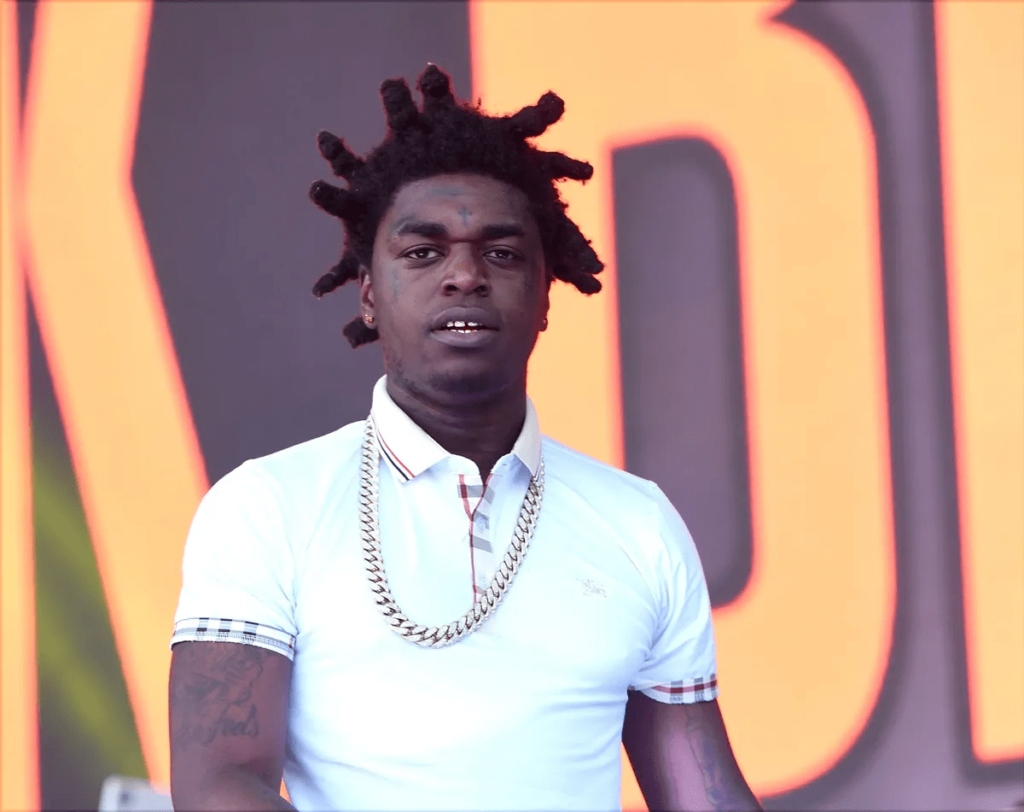 Despite Kodak Black starting his career in 2009, he's still active in the music world. Hence, many are wondering: how much money does Kodak Black have in 2023? Is he still making bank as he used to at his peak? Or not?
Kodak Black's net worth as of 2023 stands at $2 million. But remember, this is a conservative estimate as other sources claim it to be less than $1 million. And this is all due to Black's recent involvement with a shooting, landing him in jail for 46 months.
But he managed to stay afloat even if Kodak Black's run-ins with the law took a blow to his wealth. And it's all thanks to his music royalties, investments, and assets. So, it's unsurprising to see Black have a decent amount left even after getting arrested.
His primary income source is music, earning up to $3 million yearly on records, touring, and merch sales alone. Aside from that, the young rapper earns a lot from his YouTube, with nearly 9 million subscribers. Kodak Black makes between $3 million and $6 million from YouTube yearly.
When Black's not working on his music or confronting the law, he likes to dabble in social media. And he has had his fair share of sponsored posts, which can be worth up to $20,000.
---
How Does Kodak Black Make Money?
Music
Kodak Black's primary income source is music. Black can earn over $3 million annually with records, touring, and merch sales. And that's not including his royalties, which he gets from those who use his tracks. 
Kodak Black also gets paid through his music posted on YouTube. And considering he almost has 9 million subscribers, Black can earn millions per year. His earnings grew more after a clip of him, and Drake went viral in 2017.
Social Media 
Kodak Black has many social media accounts, like any other modern rapper. And besides growing his fame, these profiles can earn him money. His primary income source in social media is his YouTube channel, with almost 9 million subscribers. 
Although there's no exact amount revealed on how much Black earns on his YouTube channel, we can make a few backed-up guesses. Generally, Kodak Black gets over 50 million views monthly or 2 million daily. And since ad revenue pays between $3 and $7 per 1000 views, Black can quickly get $100,000 to over $200,000 monthly.
That means Kodak Black can get between $3 million to $6 million annually. As of this writing, Black's most-viewed video is for his track "Super Gremlin," boasting 218 million views.
YouTube aside, another lucrative social media platform Kodak Black can earn money from is Instagram. He has over 12 million followers, allowing him to get paid handsomely by brands. Usually, brands offer sponsored posts worth $20,000 upward for accounts like Black's.
Cars and Other Assets
Kodak Black grows his wealth more by investing in luxury items. He has a taste for pricy jewelry, reportedly having chains worth over $200,000 each. Chains aside, Black has a set of gold grills and diamonds studded to his teeth. Moreover, he likes high-end timepieces and watches from Rolex and Hublot. 
Other assets that have grown Kodak Black's fortunes include luxury cars. He has several rides, including a Mercedes-Maybach hybrid, a Lamborghini Urus, and a 1930 Oldsmobile Cutlass. These cars quickly add hundreds of thousands of dollars to Black's net worth. 
Finally, Kodak Black has his fair share of real estate properties. For instance, the rapper gifted his mother a $3 million mansion last year. And he has personal properties worth millions, boosting his net worth further.
---
Frequently Asked Questions
Q: Is Kodak Black still wealthy in 2023? 
A: Despite his many run-ins with the law, Kodak Black remains to be wealthy in 2023. Conservative estimates show that the rapper can have a net worth as high as $2 million. But many sources claim he has less than $1 million in assets under his name. Regardless, Kodak Black remains to be wealthy today.
Q: How much money does Kodak Black today?
A: With his cars, real estate properties, and music royalties, Kodak Black boasts a $2 million net worth. But some sources claim he has less than $1 million in name due to his run-ins with the law. And not to mention, Kodak Black hasn't had a massive hit in a while. 
Q: How did Kodak Black become so wealthy?
A: Kodak Black made his wealth by releasing successful mixtapes and albums. His debut mixtape, "Project Baby," was a success, kickstarting his journey to wealth in 2013. Since then, Black has invested in many cars and real estate properties, making him more bank!
Q: How much bitcoin did Drake give Kodak Black?
A: Kodak Black shared he received over 6 BTC from Canadian rapper Drake. When Drake gave Black the bitcoins, it had a worth of nearly $250,000. He intends to hold onto the digital asset as it appreciates over the years.
Q: How much are Kodak Black's teeth worth in 2023?
A: As of 2023, Kodak Black's diamond-studded teeth are worth over $150,000. Considering Kodak Black added diamonds to his teeth, it's safe to say he has an expensive smile.
---
Final Words
How much money does Kodak Black have in 2023? Kodak Black's net worth remains at a hefty $2 million, alongside a loyal legion of fans. After releasing one banger after another, it's unsurprising to see Black accumulate massive wealth and clout.
Besides his music royalties, Kodak Black also gets money from brand endorsements. With over 12 million followers on Instagram and nearly 9 million subscribers on YouTube, Black can easily earn millions from brand deals alone. Aside from that, Kodak Black has a massive car collection and a few mansions — adding more to his fortune.
Despite the controversies around him and his run-ins with the law, Kodak Black continues to have a successful rap career. He has a unique flow and style, amassing and maintaining his fame and wealth.
Do you wish to see how another rapper made his bank? Check out NBA Youngboy's net worth next!